Last Updated On 13 May,2017 07:49 am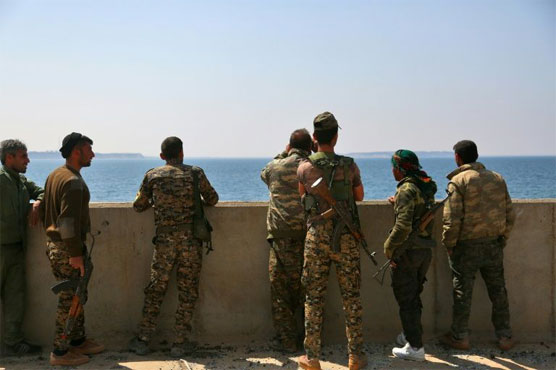 US-backed fighters said Friday they were preparing for a final assault on the IS-held Raqa.
TABQA (AFP) - US-backed fighters said Friday they were preparing for a final assault on the Islamic State group s Syrian bastion Raqa, likely next month, with new weapons and armoured vehicles promised by Washington.
The Syrian Democratic Forces (SDF) earlier this week captured the city of Tabqa and an adjacent dam, a major prize in the offensive for Raqa, the Syrian heart of IS s self-proclaimed "caliphate".
"The attack on Raqa will take place in the beginning of the summer," SDF commander Rojda Felat told AFP in Tabqa, which lies on the banks of the Euphrates River about 55 kilometres (34 miles) west of Raqa.
She later specified that it would probably start in June based on "military and tactical considerations".
SDF commanders announced the looming assault at a news conference in Tabqa, which the alliance of Kurdish and Arab fighters captured from IS on Wednesday along with the nearby dam in one of their most important victories yet.
On Friday, an AFP team entered Tabqa and the adjacent dam -- Syria s largest -- and saw rows of sandbags, mangled cars and craters from heavy bombardment dotting the structure.
The battle for Tabqa was marked by fears that the dam would be severely damaged and collapse, leading to massive flooding downstream.
The body of an alleged IS fighter was seen on Friday floating in the reservoir created by the dam.
The SDF fight for Raqa -- dubbed Operation Wrath of the Euphrates -- has already seen the alliance capture large swathes of the surrounding province with help from the US-led coalition bombing IS in Iraq and Syria.
The SDF is working to tighten the noose around Raqa before a final assault.
At their closest point, the US-backed forces are just eight kilometres (five miles) from the city.
They are backed by coalition air strikes, American special forces advisers and even a US Marines artillery battery.
SDF deputy head Qahraman Hassan said: "In the beginning of the summer, we will storm and liberate (Raqa) city."
His forces would receive "special weapons and armoured vehicles" to enter the city, Hassan said, after President Donald Trump changed US policy to allow arms deliveries to the SDF s Kurdish component.
No newly authorised aid had been delivered yet, Hassan said, but he added that "I believe this support will arrive soon."
A US defence official told AFP earlier this week that the equipment would include small arms, ammunition, machineguns, armoured vehicles and bulldozers.
Inside Tabqa, AFP s correspondent saw destroyed shops in the main marketplace, where jihadists had scrawled many of their slogans.
Signs sticking from a street post read "Know that paradise is achieved through combat," and "Prepare to fight with all your strength".
Tabqa residents began returning to their homes on Friday, but Shahhour Zuair, 46, told AFP the situation remained difficult.
As the fight around Tabqa intensified around two months ago, he fled with his six children and elderly parents. He made his way back two days ago when he heard the SDF had recaptured the city.
"The civilians are coming back but there is a lack of water, electricity, bread and food," he said, sitting in front of a pile of sandbags.
Mutia, 41, told AFP she was glad to be back in Tabqa after fleeing during the ferocious offensive.
"The fighting was really tough -- there was artillery, warplanes, snipers... We wouldn t even know where the shelling was coming from," the mother of five said.
"We really wanted to be done with (IS). We hated them, but we re afraid they ll come back to Tabqa," she added.
The SDF is dominated by the Kurdish People s Protection Units (YPG), seen by the US as an indispensable ally in the fight against IS but considered a "terrorist group" by Turkey.
The US change in policy has reignited a dispute with Ankara, with Turkish President Recep Tayyip Erdogan calling for an "immediate" reversal.
More than 320,000 people have been killed and millions more displaced since the conflict in Syria broke out in March 2011.
It began with protests against Syrian President Bashar al-Assad but has since widened into a multi-front conflict that has drawn in world powers.
On Friday, more than 1,200 people were bused out of rebel-controlled districts of Damascus as part of a settlement bringing Syria s government closer to controlling the whole capital.
The evacuees, both opposition fighters and civilians, left the districts of Barzeh and Tishrin.