Earthquake kills eight in western China: report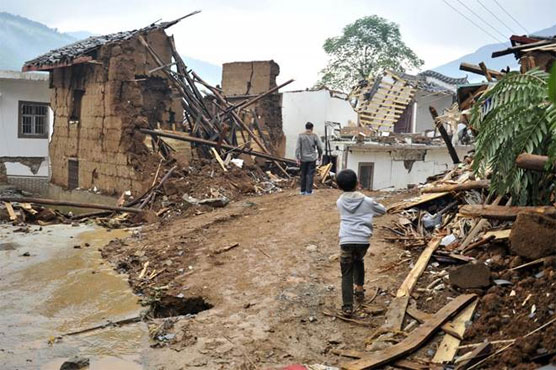 The shallow 5.4-magnitude quake struck at 5:58 am.
BEIJING (AFP) - An earthquake rocked China's western Xinjiang region on Thursday, killing eight people and injuring another 23 as more than 1,500 homes crumbled, state media reported.
The shallow 5.4-magnitude quake struck at 5:58 am (2158 GMT Wednesday) 213 kilometres (133 miles) south-southwest of the ancient Silk Road city of Kashgar, the US Geological Survey said.
Some people were buried after their adobe homes collapsed, said Wang Fuyou, Communist Party chief of Taxkorgan county, according to the official Xinhua news agency.
Rescuers were searching for people trapped in the rubble in Quzgun, the worst-hit village, which has a population of 449, Wang said.
More than 1,500 homes collapsed in Quzgun, Xinhua said.
More than 9,000 people were relocated in the region while 1,000 soldiers and 1,500 civilians were participating in rescue efforts, the agency said.
Xinhua said the injured were taken to hospital.
The People's Daily posted a photo on Twitter of a building in complete ruins. Other photos, all from the official earthquake monitoring centre, show ceiling panels on the ground in one building and products on the floor in a store.
The remote and sparsely populated area is close to the border with Tajikistan.
China is regularly hit by earthquakes, especially its mountainous western and southwestern regions.
In February 2003 a powerful 6.8-magnitude quake killed 268 people in Xinjiang and caused significant damage.