Last Updated On 16 April,2017 10:45 pm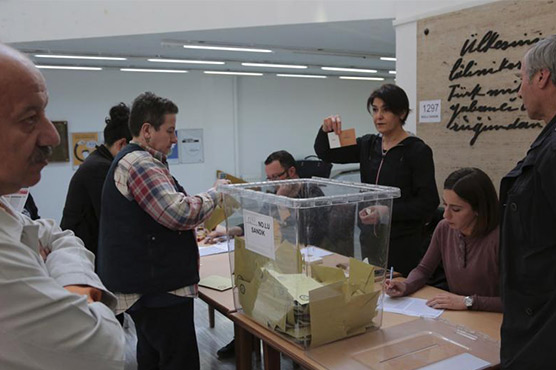 "Rules of the game do not change after the match starts," CHP MP Sezgin Tanrikulu told AFP
ISTANBUL (AFP) - Turkey s No camp, which opposes expanding President Recep Tayyip Erdogan s powers, on Sunday slammed the election commission for a last-minute change to the rules for voting in a tightly-contested referendum, saying it opened the way for fraud.
The Yes camp was narrowly ahead of its opponents in a tightly contested poll whose outcome is considerably closer than expected by the government.
The Supreme Election Board (YSK) on Sunday said that voting papers not stamped by the board will be counted valid unless proven to be brought from outside, in a controversial announcement.
In a statement posted on its website, the board said it received many complaints over the fact voters were given envelopes without stamps from officials.
The board, which convened on Sunday, "decided that ballot papers without stamps and envelopes will be counted valid unless proven they were brought from outside."
The election board s announcement was slammed by the opposition Republican People s Party (CHP), as well as dissidents from the right-wing Nationalist Movement Party (MHP).
The MHP backs the government-driven changes to strengthen Erdogan s powers but a significant dissident faction does not.
The CHP s deputy leader Bulent Tezcan urged the YSK to "reverse this error" and to take steps in order to ensure that elections were held under judicial safeguard.
"Rules of the game do not change after the match starts," CHP MP Sezgin Tanrikulu told AFP.
"With its announcement, the YSK has changed the rules of the game. This decision must be revised for fair and honest elections," he said.
Sinan Ogan, a MHP dissident, blasted the announcement as a "scandal," in a message on his official Twitter account.
The board s decision "is a scandal and opens the way for fraud."
Critics say a switch to presidential system is part of a grab by Erdogan for one-man rule, but supporters say it will simply put Turkey in line with France and the United States and is needed for efficient government.