Last Updated On 20 March,2017 08:19 am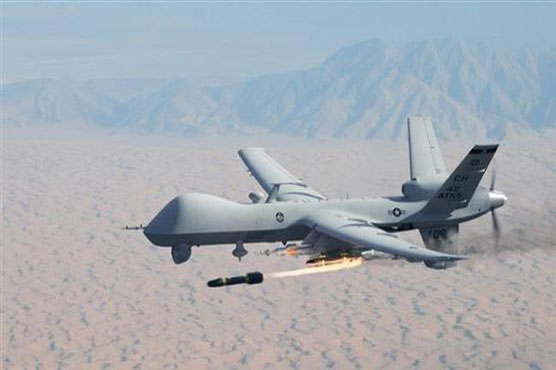 At least 12 insurgents have been killed in separate drone attacks in eastern Afghanistan.
KANDAHAR (Agencies) - Afghan officials say that at least 12 insurgents including two of their commanders have been killed in separate drone attacks in eastern Afghanistan.
Mohammad Rahman Ayaz, spokesman for the provincial governor in eastern Paktika province, said Sunday that the two insurgent commanders were targeted by a drone while they were travelling in a vehicle Saturday in the Barmal district.
Meanwhile 10 other insurgents were killed in separate airstrike in neighbouring Paktia province, said Zelmai Wesaa, provincial governor for Paktia. Wessa added the attack took place in the Dand-e Patan district near the Pakistani border.
Separately, an Afghan soldier opened fire Sunday inside a base in the southern Helmand province, wounding three U.S. soldiers before being shot dead.
Navy Cpt. Bill Salvin, a U.S. military spokesman, said coalition forces had killed the soldier "to end the attack," but Col. Mohammad Rasoul Zazai, an Afghan army spokesman, said the soldier had made a "mistake" and had not fired deliberately.
Several U.S. troops have been killed in Afghanistan in recent years in so-called insider attacks carried out by Afghan police or soldiers. In October, an Afghan man in a military uniform shot dead a U.S. soldier and an American civilian contractor inside a military base in Kabul before being killed.
Elsewhere in Afghanistan, Taliban insurgents attacked a district headquarters in the Kandahar province using a suicide car bomb, said Samim Khpolwak, a spokesman for the governor. He declined to say how many people were killed or wounded.
A security official, who spoke on condition of anonymity because he was not authorized to release information, said six police were killed and five others were wounded in the assault, which was claimed by the Taliban.
In the southern Zabul province, an army operation killed 13 Taliban and wounded 11 others, said Gen. Sadiqullah Saberi. He said two Afghan soldiers were killed and three others were wounded by a roadside bomb during the operation.