Last Updated On 09 April,2016 07:51 am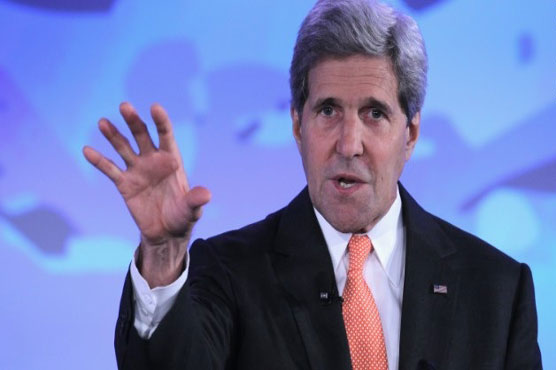 John Kerry vowed Friday to turn up the heat on the Islamic State jihadist group.
BAGHDAD (AFP) - US Secretary of State John Kerry vowed Friday to turn up the heat on the Islamic State jihadist group as he visited Baghdad to show support for Iraq s crisis-hit government.

Kerry, on his first visit to Iraq since 2014, met with senior officials including Prime Minister Haider al-Abadi and Foreign Minister Ibrahim al-Jaafari to discuss the fight against the extremist group.

He told journalists that the US-led coalition and Baghdad would "turn up the pressure even further" on IS, which has suffered a string of territorial losses in recent months in both Iraq and Syria.

The coalition is carrying out air strikes against IS, and is also providing training and arms to Iraqi forces.

Kerry said that retaking Mosul -- the largest Iraqi city under the jihadists control -- remained "at the top of the list in terms of priority".

The Iraqi army said last month that its troops and allied paramilitaries had begun what was expected to be a long and difficult offensive to retake Iraq s second city.

Iraq is battling IS, which overran swathes of territory north and west of Baghdad in 2014, while it grapples with a financial crisis caused by plummeting world prices for oil, on which it relies for the vast majority of its revenues.

Abadi is seeking to replace his current cabinet with a government of technocrats, a move that has faced opposition from powerful parties and politicians that rely on control of ministries for patronage and funds.

"What we have signalled very clearly today... is we support Prime Minister Abadi and his government as it addresses these very complex security, economic and political challenges," Kerry said during his visit that lasted several hours.

"We urge everybody to work together. We urge everybody to put the interests of Iraq, writ large, ahead of personal interests or sectarian interests," he said.

Abadi has announced a series of reform measures aimed at curbing government waste and corruption, and improving abysmal public services.

But he has faced significant opposition behind the scenes, and little in the way of real, lasting change has been accomplished.

In February, the premier called for "fundamental" change to the cabinet so that it would include technocrats and academics, as opposed to the current lineup of party-affiliated ministers.

Abadi presented the names of proposed candidates to parliament last week, but some of the nominees have faced significant pressure to withdraw, and at least one has already done so.

"In terms of the political wrangling in Iraq, it s certainly an issue that concerns us," a US State Department official said.

Kerry will "encourage the Iraqis, while they re dealing with the cabinet reshuffle, not to lose sight of the need to stay focused on the fight against (IS)," the official said.

Iraqi forces have regained significant ground north and west of Baghdad, including the cities of Ramadi and Tikrit.

Baghdad s forces are now fighting to retake the town of Heet from the jihadists, and have already regained control of some areas.

Apart from the city of Fallujah, Heet was one of the largest population centres in Anbar province still held by IS, and losing it would be the latest in a string of setbacks for the jihadists.

"Daesh is unequivocally losing ground, losing leaders, losing fighters, losing cash, and not surprisingly, members of its rank and file are also now losing hope," Kerry said, using an Arabic acronym for IS.

But while IS is losing territory, it is still able to carry out frequent bombings in government-held areas against both civilians and security forces -- a fact referenced by Kerry on Friday.

"Daesh is on the defensive, that is clear. But its capacity to inflict suffering regrettably still remains," he said.

The jihadists still control much of Nineveh province in northern Iraq, parts of Anbar to the west of Baghdad, and swathes of territory in neighbouring Syria.

Kerry travelled to Iraq after visiting the small but strategic Gulf kingdom of Bahrain, where he held talks with Gulf Arab foreign ministers on the conflicts in Iraq, Syria and Yemen.

He called on Iran to help end the wars raging in Yemen and Syria, where Tehran and its Gulf Arab rivals are backing opposing sides.