Last Updated On 11 September,2015 About 0 seconds from now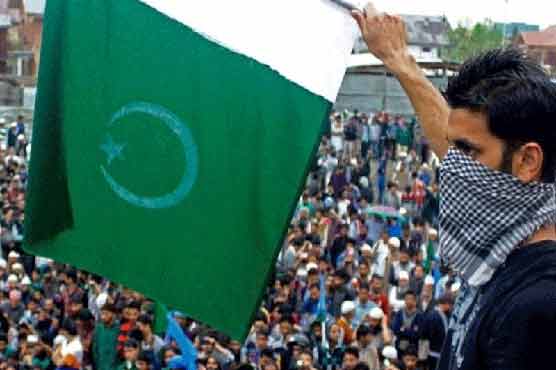 Youth chanting slogans for freedom and against Indian occupation hoisted green flag in the valley
SRINAGAR: (Dunya News) – Pakistani flag was on Friday once again hoisted in the Kashmir valley. Chanting slogans for their freedom and against Indian occupation, youth came out on the roads carrying the green Pakistani flags, reported Dunya News.
Hundreds of Kashmiri youngsters took to roads carrying Pakistani flags after Friday prayers in the capital Srinagar. The youth led a rally and raised slogans against Indian occupation.
The protesters said on this occasion that India has confiscated the basic human rights in the valley and they cannot feel free under this environment. Looking at the green flags everywhere, the Indian army got panicked and used force over the unarmed protesters. Dozens of protesters got injured due to Indian forces' shelling.