Tajikistan accuses Islamic party of IS ties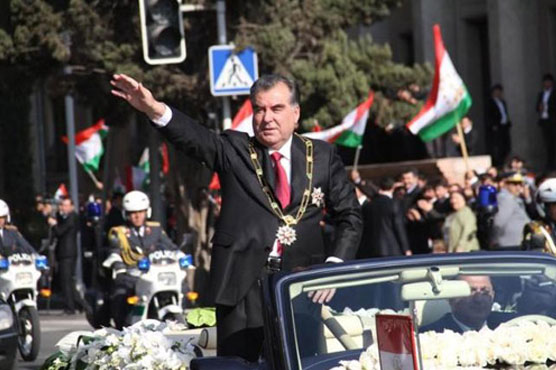 Activists and members of IRPT directly engaged in the propaganda of IS's extremist ideas: Spokesman
DUSHANBE (AFP) - Tajikistan on Saturday accused the country s beleaguered Islamic party of ties with the Islamic State group based mainly in Iraq and Syria.
Members of the Islamic Renaissance Party of Tajikistan (IRPT) have been "in active contact with militants in Syria" and have responded to the militants request to "raise the black flag of IS," an interior ministry spokesman said.
"Activists and members of the IRPT directly engaged in the propaganda of IS s extremist ideas, destabilising the peaceful situation in different parts of Tajikistan by raising the black flag of IS," the spokesman told AFP.
He said "around 20" people had been arrested in connection with flag-raising incidents in the southern provincial towns of Shaartuz and Nurek but did not say how many were members of IRPT.
An IRPT spokesperson in Nurek confirmed one of its members had been arrested but said the party lacked enough information to comment further. Party representatives in Shaartuz could not be reached for comment.
Critics of Tajikistan s highly authoritarian secular government will view the arrests as further pressure on a party it recognised as legitimate following a bloody five-year civil war that ended in 1997.
Citing the party s lack of formal representation in almost 60 regions and cities, the Central Asian country s justice ministry on Friday ordered IRPT to "cease its illegal activities" in a move seen as an effective ban on the country s largest opposition party.
On Tuesday, an economic court in the Tajik capital sealed off the party s headquarters.
The party became an umbrella opposition bloc following the UN-backed 1997 peace deal struck in Moscow between the government and the United Tajik Opposition (UTO) but failed to win a single seat in a disputed March vote that left 62-year-old President Emomali Rakhmon s party unchecked in the parliament.
Analysts have warned that the government crackdown on the party could radicalise the moderate Muslim opposition.
Tajikistan s security structures say up to 600 nationals are fighting with radicals in Iraq and Syria.