Last Updated On 13 August,2015 About 0 seconds from now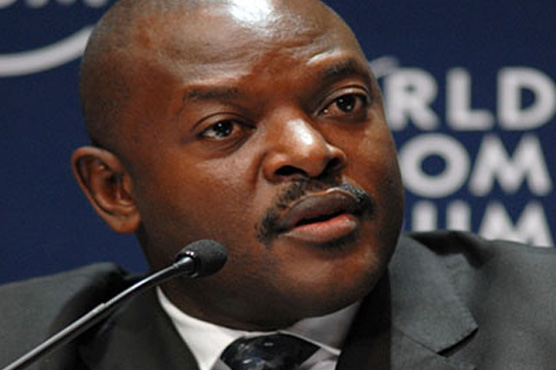 President's successful effort to bulldoze his way into a controversial third term sparked protests
NAIROBI (AFP) - Burundi s ruling party on Thursday termed the controversial re-election of President Pierre Nkurunziza a "divine miracle", as the opposition accused him of declaring war by clinging to power.
The president s successful effort to bulldoze his way into a controversial third term sparked protests and a failed coup, with a sweeping crackdown and an exodus of citizens fleeing the unrest.
But Nkurunziza s CNDD-FDD party praised his "stunning victory" in last month s polls, which were boycotted by the opposition and internationally condemned as being neither free nor fair.
Leonard Nyangoma, a veteran political leader who heads the opposition CNARED coalition, said Nkurunziza had "declared war" on his people and demanded his "immediate departure" from office.
"The situation is extremely serious: the political, socio-economic situation is deteriorating day by day," Nyangoma, a founding member of the CNDD-FDD, said.
Security forces are targeting opponents of Nkurunziza with "numerous arrests, torture, killings and atrocities," Nyangoma said, speaking from Europe, where he is now based.
The United Nations observer mission said the vote was not "inclusive free and credible" and was held "in an environment of profound mistrust" between political rivals.
- Clashes at night -
Meanwhile violence continues unabated in Burundi with at least three people killed overnight Wednesday, police sources said, adding that grenade blasts were also reported.
There are widespread fears -- both inside and outside Burundi -- that the tiny country in the heart of central Africa s troubled Great Lakes region could be plunged back into civil war.
Nkurunziza, a 51-year-old former sports teacher and born-again Christian, was a Hutu rebel leader during the 1993-2006 civil war, when at least 300,000 people were killed.
That war pitted rebels from the majority Hutu people against an army dominated by the minority Tutsi.
But despite fears of renewed Hutu-Tutsi tensions, Nyangoma said people had not reacted to those who tried to stoke ethnic divisions.
"Since the beginning of the crisis, the regime tried to play the ethnic card, but it did not work," Nyangoma said.
Earlier this month, insurgents used a rocket to assassinate top general Adolphe Nshimirimana, who was widely seen as the country s de-facto internal security chief.
The CNDD-FDD honoured the memory of the "illustrious officer" Nshimirimana -- a man feared by many in the opposition -- as it called on citizens to "remain vigilant" amid reports of weapons seized from "radicals" in the country.
But it also insisted that Burundi was secure, saying: "The country is calm in all its corners."
Many people are worried at rising tensions in the capital Bujumbura, where gunfire is regularly heard at night.
Top international envoys from the United Nations, African Union, European Union, Belgium and United States have called on all sides to "recommit to a transparent, inclusive, and comprehensive political dialogue".
On Thursday, the CNDD-FDD party said they wanted to restart talks and to establish a government of national unity, comprising political parties and citizens "who have shown a good spirit and a clear desire to build their country."
But the opposition dismissed such statements as mere rhetoric.
"Some in Bujumbura are tempted to resort to force to defend themselves," Nyangoma said, calling it "the consequence of provocations by a regime that refuses to accept the path of dialogue."