Former Indian president A P J Kalam dies aged 83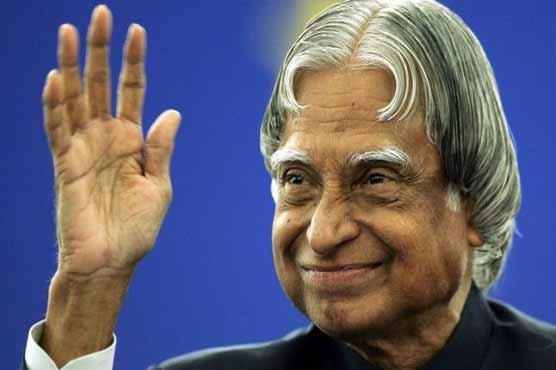 India's former president and top scientist A. P. J. Kalam died on Monday at age 83.
NEW DELHI (AFP) - India s former president and top scientist A. P. J. Kalam, who played a lead role in the country s nuclear weapons tests, died on Monday, a hospital official said. He was 83.

Kalam collapsed during a lecture at a management institute in the northeastern Indian city of Shillong, and was declared dead on arrival by doctors at Bethany hospital.

"We tried to revive him but couldn t," John Sailo, the hospital medical superintendent told AFP, without giving further details about the cause of his death.

India declared seven days of national mourning for Avul Pakir Jainulabdeen Abdul Kalam, who served as India s 11th president between 2002 and 2007, as is standard after the death of a former leader.

His body will be flown to New Delhi on Tuesday, local media reported.

India s Prime Minister Narendra Modi plaid tribute to Kalam, who was elected to the top post during the previous Bharatiya Janata Party rule, saying he had "always marvelled at his intellect, learnt so much from him".

"India mourns the loss of a great scientist, a wonderful president and above all an inspiring individual," his office said in a statement.

An acclaimed scientist and author, Kalam was known as the "people s president" during his time in office and continued to reach out to young people with his scientific lectures after leaving office.

Home minister Rajnath Singh described him as "an inspiration to an entire generation" in a post on Twitter.

Born to a poor family of boatman in Rameswaram, a coastal town in southern Tamil Nadu state on October 15, 1931, Kalam sold newspapers as a child to help his family financially.

He rose through the ranks to become a top scientist at India s defence research organisation, where he worked for four decades helping to develop the country s home grown weapon s programme, earning him the moniker "India s missile man".

He also played a pivotal role in India s nuclear weapons tests in 1998.

After his presidential term, Kalam returned to academics and regularly delivered lectures at top Indian universities. He also published a best seller autobiography entitled "Wings of fire" in 1999.