Last Updated On 06 June,2015 About 0 seconds from now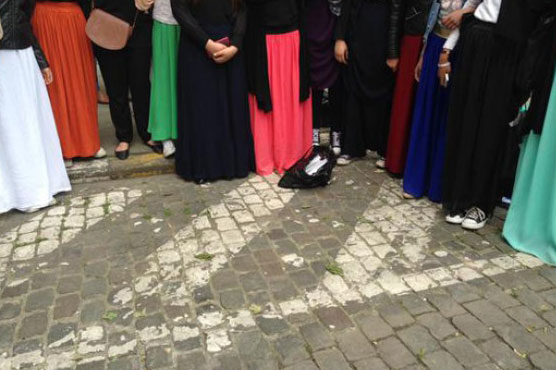 Twitterati termed this move as Islamophobic saying it's no longer limited to Hijab only
(Web Desk) – A school in Belgium had sent 30 Muslim school girls home last week for wearing long skirts, baggy pants, dark dresses and skirts over pants after such dresses were banned by the principal.
The principal is quoted by media to have said "the wearing of baggy pants, long skirts or dark dresses, and skirts or dresses over pants is not tolerated."
This triggered a massive online protests as #jeportemajupecommejeveux (I wear my skirt as I like) trended on Twitter and the principal finally let the students in.
France has already been in the news for sending students with long skirts home because their attire looked against "secularity" of the country.
Here s a report by AJ+
People have termed it a result of Islamophobia. They argue that the anti-Muslim is not restricted only to the burka and Hijab (the head covering) anymore.
Tweet a picture of yourself in a long skirts to @ComingofFaith #JePorteMaJupeCommeJeVeux #IWearMySkirtAsILike pic.twitter.com/YRUXfHB2gW
— Sara Chaudhry (@SChaudhry_)
June 3, 2015
Too damn long! #JePorteMaJupeCommeJeVeux #Iwearmyskirtasilike pic.twitter.com/VaqGJPCyYK
— Redouan A. (@RedouanAhdour)
June 3, 2015
Students can be denied an education because their skirts are too long is beyond me. Completely nonsensical. #JePorteMaJupeCommeJeVeux
— Sondos Shapsogh (@XxSondos)
June 3, 2015
Where s your "democracy" and "feminism" now? This world disgusts me! #JePorteMaJupeCommeJeVeux #IWearMySkirtAsILike
— Bel (@snugglebuglwt)
June 2, 2015
The Taliban, French and Belgian authorities should sit and decide on a universal dress code for school girls. #JePorteMaJupeCommeJeVeux
— shahshams (@shahshams)
June 2, 2015
Hey Belgium, while you re at it, could you outlaw Disney Princesses? http://t.co/7zMAzUjBS0 #IWearMySkirtAsILike #JePorteMaJupeCommeJeVeux
— Ayesha Mattu (@Ayesha_Mattu)
June 2, 2015
Maybe focus on what girls achieve in school and not what they wear to it... #JePorteMaJupeCommeJeVeux #IWearMySkirtAsILike
— Isabelle Rothstein (@BelleRothstein)
June 2, 2015