Last Updated On 01 June,2015 About 0 seconds from now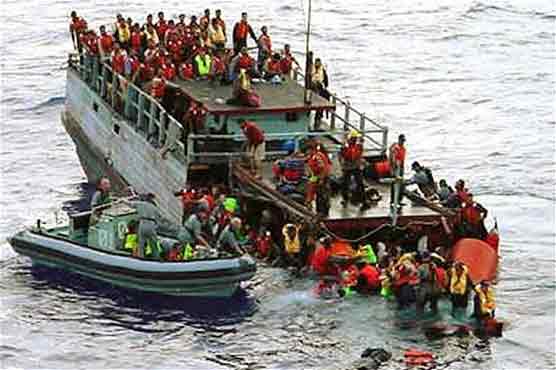 The 65 migrants from Bangladesh, Myanmar and Sri Lanka were spotted by the Australians.
KUPANG, Indonesia (AFP) - Scores of asylum-seekers have come ashore in eastern Indonesia after their boat was intercepted by the Australian navy and pushed into Indonesian waters as they headed for New Zealand, police said Monday.
The 65 migrants from Bangladesh, Myanmar and Sri Lanka were spotted by the Australians, said Hidayat, an Indonesian police official on Rote Island in the east of the archipelago.
"According to their testimony, they were pushed back by the Australian navy and immigration after they were interrogated," said the official, who like many Indonesians goes by one name. "They said they were on their way to New Zealand."
He said they were spotted by local residents Sunday near a beach after their boat sank.
Australia s conservative government introduced tough immigration policies in 2013 to stop an influx of would-be refugees. Asylum-seekers arriving on vessels are sent to Pacific camps and vessels are turned back when it is safe to do so, or taken back to their country of origin.
The new arrivals in Indonesia come as Southeast Asia is gripped by a human-trafficking crisis, which has seen thousands of migrants come ashore after a Thai crackdown threw the illicit trade into chaos.
Around 1,800 Rohingya from Myanmar as well as Bangladeshis have landed in Indonesia s Aceh province this month alone, and others have landed in Malaysia and Thailand.
Hidayat did not say where the latest group, which included women and children, had started their journey, although asylum-seekers have in the past set off from Indonesia en route to Australia.
The would-be refugees were being held at a police station and would be processed by immigration officials on Tuesday, the official said.
After Australia introduced its military-led operation two years ago, the numbers attempting the route from Indonesia to Australia declined dramatically.
An official said last week that Australia had prevented 18 boats carrying asylum-seekers from arriving in the country since its conservative government came to power in September 2013.
New Zealand s Prime Minister John Key warned last year that people-smugglers were looking to target his country after the introduction of Australia s tough border protection policies.
While the voyage to New Zealand from places such as Indonesia and Sri Lanka is potentially far more perilous than trying to reach Australia, Key said people-smugglers and asylum-seekers were willing to take the risk in the wake of Canberra s clampdown.