Hungarian PM's row with old ally spurs media upheaval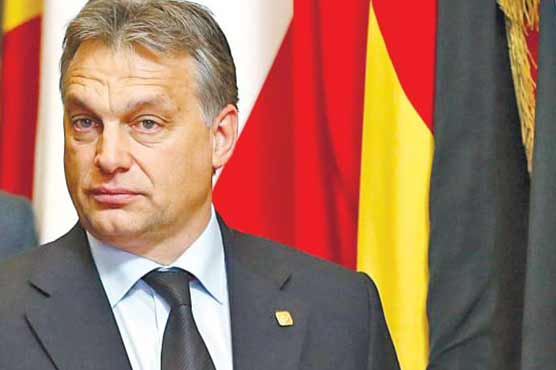 In addition, Fidesz politicians once loyal to Simicska's media are now boycotting it
BUDAPEST (AFP) - A row involving Hungarian Prime Minister Viktor Orban and his ex-college roommate, right-wing business tycoon Lajos Simicska, is tearing up the country s media landscape as the rivals fight for control.
Since their dispute erupted a year ago, Orban has been seeking to build his own media turf in an effort to tighten his grip on the press and rally political support at a time when he is losing popularity.
As part of the leader s plan to sideline Simicska s business empire, Hungarians recently witnessed the relaunch of state media and the roll-out of a 24-hour public news channel.
The move signals a shake-up of Hungary s right-wing press, which thus far has been dominated by Simicska.
Orban s former treasurer is considered to be at least as important as the prime minister himself in national politics, but tends to avoid the limelight.
Relations between Orban and Simicska first soured after the ruling Fidesz party was re-elected last April.
They eroded further when the government introduced a tax on advertising revenues that hurt Simicska s interests, including leading conservative daily newspaper Magyar Nemzet, news television HirTV and Lanchid radio.
Magyar Nemzet had called the tax an attempt by Fidesz to "step on the throat of press freedom".
The row reached a climax in February when editors employed by Simicska unexpectedly resigned en masse, citing "reasons of conscience" -- a move which prompted the oligarch to publicly call Orban a "scumbag".
In addition, Fidesz politicians once loyal to Simicska s media are now boycotting it by refusing interviews.
"Fidesz interprets criticism as betrayal. There is no room to diverge from the Fidesz line," a journalist who works for Simicska-owned media told AFP on condition of anonymity.
Nevertheless, the reporter also insisted there was and is no political pressure on them to either support or criticise the government.
- Bias accusations -
====================
The launch of the hastily revamped state media on March 15 -- press freedom day in Hungary -- was plagued with technical glitches and mistakes.
The nightly newscast lost more than 100,000 viewers just days after the news channel was rolled out, based on figures by the Nielsen audience-measuring company.
Critics say the channel s news editing is biased.
"It serves propaganda purposes," said Agnes Urban of Mertek Media Monitor, an organisation that analyses Hungary s media landscape.
"Government officials are portrayed in a positive light apropos of current events, while opposition politicians are represented only in marginal issues or with a negative connotation."
The viability of the new media set-up not only depends on government will, but also on advertisers.
Seemingly inexhaustible public funds are made available to the state media.
The public broadcaster has been criticised by the opposition for having received 80 billion forints (269 million euros, $283 million) from the state budget, by far the largest operating sum on the media market.
Either way, Fidesz is confident that loyalty, not money, will be the key to success.
"People read and watched these media outlets because they are fans of Orban, not because they are fans of this daily or that TV channel. They will eventually choose the alternative offered by the prime minister," said Agoston Samuel Mraz of the Fidesz-linked Nezopont Institute.
- Online sanctuary -
====================
Over the past five years, Hungary has tumbled 41 places in the annual Reporters without Borders ranking, which assesses press freedom in more than 180 countries.
Orban has not personally stifled media scrutiny, nor does he own media outlets.
However, soon after coming to power in 2010, Fidesz adopted new legislation that critics say weakened the state-financed media s independence and put the regulatory body under political control.
Hungary s government denies exerting pressure on journalists and maintains that criticism of its media policy is politically motivated.
One segment where media can weather the Orban-Simicska storm relatively freely is online.
"The rest of the media is over-politicised, forced to take a stand on either side," Urban observed.
She cited two investigative online news portals, Atlatszo.hu and direkt36.hu, as examples of sites set up by journalists who insist on their independence.
For now Fidesz has limited presence online, but local media report that Orban s top spin doctor plans to set up a news portal to offset that.
The media shake-up is a gamble even for Orban who is known for not shying away from controversial moves.
Analysts say the media war already had an impact on two by-elections which saw Orban s party lose, including on April 12 when far-right Jobbik snatched a former Fidesz seat.
"It will be difficult to stop Fidesz s slide in the polls, because Orban now has to fend off rival, right-wing messages from Simicska s media, seen as legitimate by some Fidesz voters," said Csaba Toth, analyst at Republikon Institute.
"This is a war in which both sides have already lost a lot, and could lead to the downfall of both. Orban could be politically paralysed," added another analyst, Peter Kreko of the Political Capital Institute in Budapest.