Nazarbayev calls early April 26 election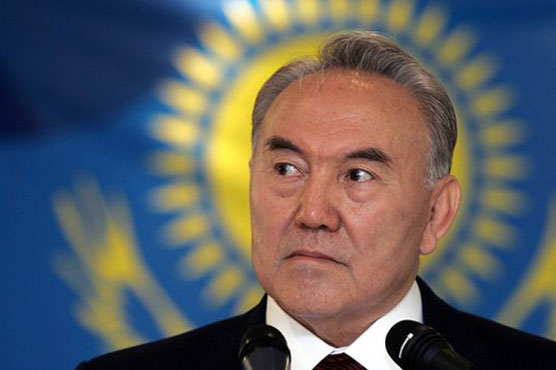 Nazarbayev did not confirm his participation in the upcoming election, which is widely expected
ASTANA (AFP) - Kazakh President Nursultan Nazarbayev on Wednesday set early elections for April 26, a move that will almost certainly see the septuagenarian leader re-elected for another term in the energy-rich state.
"In the interests of the people... and for the sake of the general and strict implementation of the law, I have taken a decision and signed a decree calling early presidential elections for April 26," said the 74-year-old president in a televised address to the nation.
Nazarbayev did not confirm his participation in the upcoming election, which is widely expected.
The presidential elections had been expected to take place at the end of 2016, with parliamentary polls scheduled at the start of the following year.
Nazarbayev cited a desire for the presidential election not to clash with a parliamentary vote in such a short period as a key reason for the decision.
The announcement follows a February 14 request by the Assembly of the People of Kazakhstan, a constitutional body, to hold elections nearly two years before Nazarbayev s present term is set to end, in order to tackle the difficult economic situation in the oil-dependent country.
The call was echoed by Nazarbayev s ruling Nur Otan party two days later.
On February 11, in a speech to the government, Nazarbayev admitted that the republic was facing economic "difficulties," and that the government would need to cut spending for 2015-2017.
He said that he did not expect a repeat of last year s shock devaluation of the national currency, which was slashed by almost a fifth overnight, despite low prices for crude oil and a weakened ruble in neighbouring Russia.
Nazarbayev s address came in the wake of the shocking news of the death of his former son-in-law, Rakhat Aliyev, in an Austrian jail cell.
Aliyev, who was regarded as one of Nazarbayev s biggest political foes, was awaiting trial for the alleged murder of two Kazakh bankers when he apparently committed suicide on February 24.
Aliyev s lawyers have publically doubted suicide was the real cause of death. Austria had repeatedly refused Kazakhstan s extradition requests.