Last Updated On 16 January,2015 About 0 seconds from now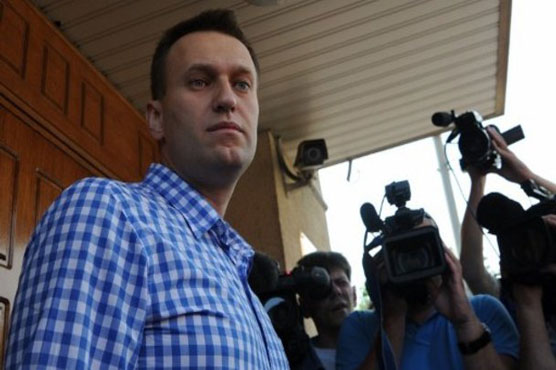 welve men met Navalny outside his apartment building and bundled him into a car
MOSCOW (AFP) - Russia announced a new probe on opposition protest leader Alexei Navalny on Friday, hauling him in for questioning and raiding the office of his anti-corruption foundation.
The Investigative Committee, which probes serious crime, told Interfax news agency it was "checking information on illegal actions by the leaders and staff of the foundation in spending money from donors".
It said the "check" was at the request of an MP from the nationalist Liberal Democratic Party, Mikhail Degtyarev.
Navalny, a charismatic 38-year-old lawyer, gained fame with a blog exposing corruption before becoming the star speaker at mass rallies against Vladimir Putin s return to the Kremlin. He founded an NGO called the Foundation to Fight Corruption.
The Investigative Committee said that around 24 million rubles was transferred to the foundation in 2013 by 16,000 supporters and it suspected "most of this money was spent on the salaries of staff -- 60 percent -- and not on the aims that the fund was allegedly created for."
Twelve men met Navalny outside his apartment building and bundled him into a car, he wrote on Twitter.
"Twelve people met me as I came out of the hallway. (They showed) a warrant compelling my appearance. They re taking me to the Investigative Committee."
Investigators a day earlier had said they wanted to question Navalny, his lawyer said.
Moscow police told Interfax news agency that they had the legal right to take Navalny to "carry out investigative work".
Navalny s lawyer Olga Mikhailova said he refused to answer questions.
Navalny said that after he emerged from questioning, he learned that his anti-corruption foundation was being searched by masked and armed investigators.
"In the fund to fight corruption there are four investigators, around 10 case officers. Riot police in masks with snipers rifles with silencers, the whole caboodle," he added on Twitter.
The foundation has exposed suspicious state contracts and the luxurious mansions of public officials both in Russia and abroad, by poring over public reports, transactions and real estate databases.
Navalny has only just emerged from his previous court case, in which he was convicted on charges of embezzling more than $500,000 (at the exchange rate of the time) from French cosmetic company Yves Rocher and given a three-and-a-half year suspended sentence, while his brother was jailed for the same period.
He is still technically under house arrest but has defied its terms and cut off the leg bracelet monitoring his movements. The prison service responded by fining him 670 rubles ($10).
Navalny called off a planned rally of his supporters in central Moscow on Thursday. Instead several hundred pro-Kremlin activists turned out.