29 Lebanese asylum seekers missing after boat capsizes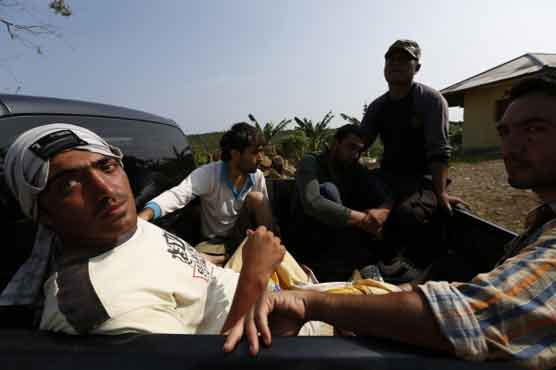 The Australia-bound boat carrying asylum-seekers from Lebanon, Jordan and Yemen sank off Java.
BEIRUT (AFP) - At least 29 Lebanese asylum-seekers are missing after their boat capsized off Indonesia on its way to Australia, the Lebanese foreign ministry said Saturday.
Indonesian police said 28 people were plucked from the water but around 70 -- including many children -- are still unaccounted for.
The Australia-bound boat carrying asylum-seekers from Lebanon, Jordan and Yemen sank off Java Friday, Indonesian police said.
"There were 68 Lebanese on board," Haytham Jomaa, who is in charge of immigration affairs at the Lebanese foreign ministry, told AFP. He said 18 of the Lebanese survived the ordeal while 21 bodies were retrieved from the sea.
Jordan s foreign ministry said one of its citizens was among the survivors and that it was looking into whether others had been on board.
Lebanese mother Nazime Bakour, 32, spoke of the tragedy to AFP after she was rescued by fishermen along with her son. She lost her husband and two other children, a 3-year-old and a 7-year-old.
Bakour, speaking in broken English, said the boat was struck by a massive wave and broke into pieces.
"I have to swim. My husband swim very well, but the boat break and hit his head," she said, adding that she saw her surviving son in the water and managed to grab him.
Outgoing Lebanese Prime Minister Najib Mikati said relatives of the asylum-seekers would be travelling to Indonesia to reunite with survivors and identify bodies.
Most of the Lebanese asylum-seekers hail from the town of Kabiit in Akkar, an impoverished and remote district in northern Lebanon across the border from Syria.
Thousands of Syrians fleeing the civil war in their country have trekked across the border to Akkar since the conflict erupted in March 2011.
Local officials in Akkar said many of the Syrians have been lured by exploitative travel agents into making the high-risk sea trip to Australia in search of asylum.
Impoverished Lebanese from the Akkar region have also signed up for the treacherous voyages, hoping for a better life in Australia, the officials said.
Thousands of asylum-seekers have travelled by boat to Australia this year, and scores have died trying to make the journey in unseaworthy vessels over the years.