Egypt police warn Islamist protesters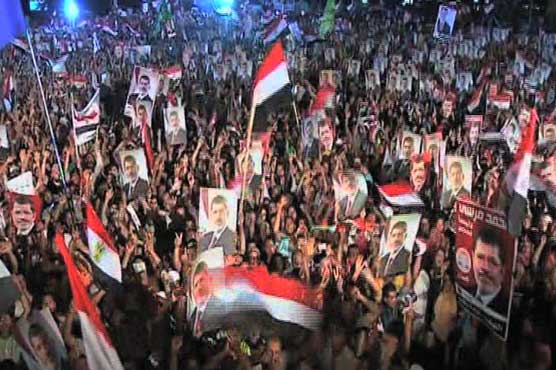 Egypt's interior ministry on Saturday has issued a tough new warning to Islamist protesters.
CAIRO (AFP) - Egypt s interior ministry on Saturday issued a tough new warning to Islamist protesters, pledging to crack down hard if demonstrators block roads or obstruct traffic.
The warning came a month to the day after troops swept aside two Islamist protest camps in a deadly crackdown slammed by rights groups.
It also came a day after thousands of protesters rallied in Cairo against the military s July 3 overthrow of Islamist president Mohamed Morsi.
The ministry accused the protesters of committing "many crimes" such as blocking traffic and "kidnapping journalists and confiscating their equipment".
"The ministry affirms that it will confront with utmost decisiveness practices such as blocking roads or obstructing traffic or threatening the security of citizens," it warned.
Hundreds of people have been killed and more than 2,000 arrested in the crackdown on Morsi s Muslim Brotherhood movement since August 14, when police forcibly dispersed two protest camps.
The Islamists have continued to call weekly rallies, insisting that they are committed to peaceful protest.
On Saturday, roughly 200 protesters in Cairo marched near Rabaa al-Adawiya square which was the site of the main protest camp dispersed a month ago.
Hundreds were killed in the operation to clear the camp and another Cairo sit-in, in what Human Rights Watch described as "most serious incident of mass unlawful killings in modern Egyptian history".
The government defended the operation, saying it was measured and that police acted with self-restraint after coming under fire from protesters.
Men, women and children chanting "Rabaa, Rabaa!" marched peacefully in the Nasr City district near Rabaa al-Adawiya on Saturday.
"We are holding a symbolic march to show that one month after the Rabaa massacre we have not given up our agitation. It will continue," protester Ahmed Shamseldin, a doctor, told AFP.
Morsi supporters have tried to stage regular protests since the crackdown, but in recent weeks their numbers have sharply fallen amid a sustained campaign by security forces targeting Islamists.
The Anti-Coup Alliance, led by the Muslim Brotherhood, regularly calls for such protests against the military.
Morsi, the country s first democratically elected president, was ousted by the army on July 3 after massive protests demanding his resignation.
On Thursday, interim president Adly Mansour extended for another two months a state of emergency in force since the mid-August bloodshed, citing security concerns.
Also on Saturday, Morsi s predecessor as president -- 85-year-old Hosni Mubarak -- was back in court in his retrial on charges of complicity in the deaths of protesters in 2011.
It was the seventh hearing in the retrial of the ex-president and his security commanders over the killings of hundreds of protesters during the uprising that overthrew him.
Lawyers for Mubarak, his interior minister and six security commanders argue that much of the killing during the uprising was carried out by Islamists linked to the Brotherhood.
Before adjourning the trial to October 19, the court summoned a former head of General Intelligence Services, Murad Muwafi, army general Hassan al-Ruwaini and two other former security commanders.
They will testify in camera next month for reasons of "national security", the court said.