Swans changing their behaviour in a warming world: Scientists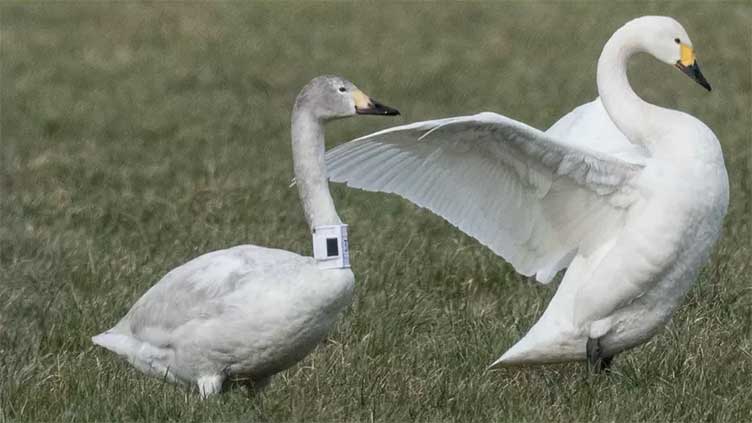 WeirdNews
Climate change: Fewer wild swans return to UK in winter
(Web Desk) - The sight of wild swans flying in for the winter is becoming less common in the face of climate change.
Scientists say Bewick's swans are changing their behaviour in a warming world, with fewer making it back to the UK and those that do arriving late.
A bonded pair of swans named Maisie and Maifield touched down on Thursday at Slimbridge, in Gloucestershire.
They are the latest arrivals since 1965, when naturalists started monitoring the returning flocks.
And their numbers have dwindled, from an annual flock of 700 to little more than 100.
Every year, the majestic waterbirds leave their frozen Arctic breeding grounds for warmer climes. They arrive in late autumn, returning north again in the spring.
Kane Brides, senior research officer at the Wildfowl and Wetlands Trust reserve, said the "saddest fact" was one day the swans may never return to Britain.
"This is happening right in front of our eyes," he said. "Climate change is playing its part here."
The smallest of the UK's wild swans, Bewick's have more black on their yellow bills than Britain's other long-distance migrant, the whooper.
Individual Bewick's can be identified by these unique markings.
And monitoring studies using global-positioning-system (GPS) trackers showed they were changing their behaviour, Hans Linssen of the Netherlands Institute of Ecology, said.
"Winters used to be colder, so when they came down from Russia they travelled all the way to Britain to be at a comfortable temperature," Mr Linssen told BBC News.
"But these days, winters are warmer, so when they come down, they arrive in Germany and the Netherlands and they think, 'It's good here. I'll stay. I'll not bother to travel all the way to England.'
"And northern Germany now seems to be the main area for them to stop and spend the winter."