Monster python captured in Florida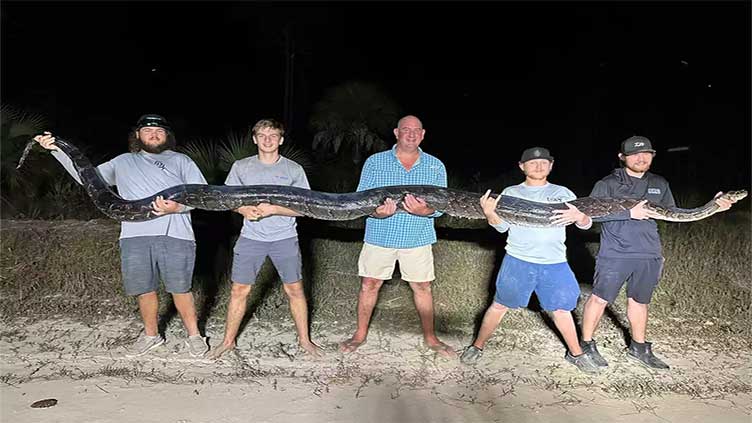 WeirdNews
The reptile was discovered by conservationist
(Web Desk) - A 198-lb Burmese python has been found by captors in Florida, say reports.
The reptile was discovered by conservationist Mike Elfenbein and his son Cole, 17, while the two were hunting for pythons at Big Cypress National Preserve on Friday, CBS News and Field & Stream reported.
Elfenbein, 45, described the python as "a monster" to CBS News following the discovery. "It was more than a snake," he said.
Three other hunters — Trey Barber, Carter Gavlock and Holden Hunter — also spotted the python at the same time as Elfenbein and joined him and his son in wrangling the snake.
Per the outlet, the group wrestled with the snake for over 45 minutes.
"We were strangers," Elfenbein told CBS News. "But the five of us knew we had to capture this thing."
While speaking to Field & Stream, the conservationist said that "it took everything we had to keep her pinned down."
He added, "Even with five guys on top of her, she was able to lift us off the ground and keep moving."
According to Elfenbein, the python had "zero fear" and entered "fight or flight" mode once they grabbed hold of the reptile, CBS News reported.
He told the outlet that it was "trying to constrict" the group and "continue to move us out of the way" as they sat on its back.
Elfenbein said catching the 17-foot 2-inch python was "a new personal best" in a post shared on Facebook.
He also shared his theory that the snake got so big after eating a lot of wildlife local to the area.
"She ate her last meal! It took five of us to control her, glad to have removed her from our Everglades where she can no longer eat our wildlife," Elfenbein wrote in his post.
After finding the snake, Elfenbein called professional python hunter Amy Siewe, CBS News reported.
"If Mike is calling me right now, it has to be a python," Siewe, who has professionally captured 530 pythons since 2019, recalled, telling the outlet that she then drove up to the preserve and saw "the fattest python I had ever seen."
She added, "It was hard to comprehend the size."