Four charged with theft of gold toilet from English stately home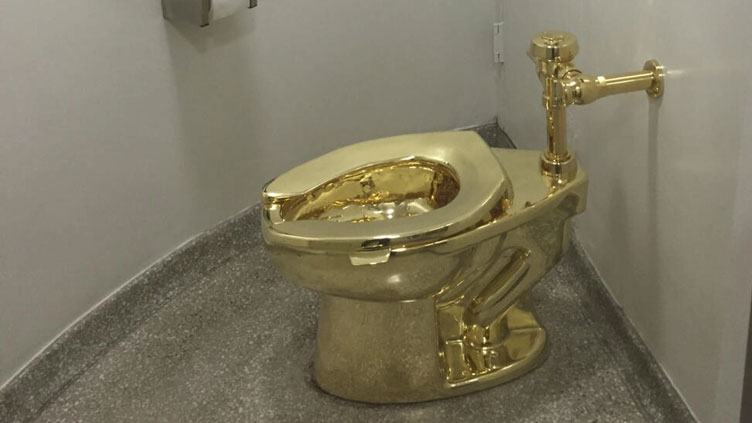 WeirdNews
The fully functioning convenience, dubbed "America" is valued at £4.8 million ($5.9 million)
London (AFP) – Four men are facing charges in relation to the theft of an 18-carat gold toilet that was stolen from an English country house, prosecutors said on Monday.
The fully functioning convenience, dubbed "America" and valued at £4.8 million ($5.9 million), was stolen from Blenheim Palace in Woodstock, near Oxford, southern England, in September 2019.
It was one of the star attractions of an exhibition by Italian artist Maurizio Cattelan at the palace, home to the dukes of Marlborough and birthplace of Britain's former prime minister Winston Churchill. The 18th century stately home is also a UNESCO World Heritage site.
The Crown Prosecution Service (CPS), which decides on whether to bring cases to court in England and Wales, said the four men -- aged between 35 and 39 -- would appear in court in Oxford on November 28.
James Sheen, 39, is facing one count of burglary, one count of conspiracy to transfer criminal property, and a further charge of transferring criminal property. Michael Jones, 38, is facing a charge of burglary while Fred Doe, 35, and Bora Guccuk, 39, are both accused of conspiracy to transfer criminal property, a CPS statement read.
Visitors were able to book time slots to use the precious metal privy but only for three minutes at a time, to limit queues. More than 100,000 people used it during the year it was on display at New York's Guggenheim Museum.
British police at the time said thieves broke into Blenheim Palace during closing time and made off with the toilet, ripping it from its plumbing and causing "significant damage and flooding".