Back in Mexico, 'Earth Monster' sculpture points to ancient beliefs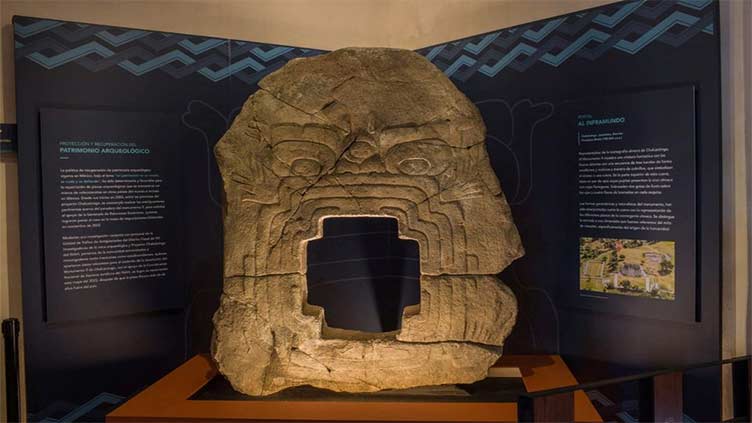 WeirdNews
The sculpture was likely taken from central Mexico during the 1960s
MEXICO CITY, (Reuters) - A massive stone sculpture carved by Olmec artists more than 2,000 years ago that evokes ancient religious beliefs has returned to Mexico after decades in the United States in a homecoming cheered by officials and scholars.
Known today as the "Earth Monster," the sculpture was likely taken from central Mexico during the 1960s, spending time in the hands of private collectors as well as on public display before being seized by antiquities trafficking agents working with New York prosecutors.
The symbol-laden artifact weighs roughly a tonne (2,200 pounds) and was likely found several decades earlier at the Chalcatzingo archeological site in Morelos state, just south of Mexico City.
U.S. officials coordinated with their Mexican counterparts to repatriate the sculpture earlier this week.
It was carved from volcanic rock sometime between 800-400 BC during the heyday of the Olmec civilization, one of Mexico's earliest complex societies with sites mostly clustered around the country's Gulf coast. The Olmecs are well-known for their advanced artistic tradition, including colossal head sculptures.
The artifact depicts a mythological mountain and its stylized cave entrance in the form of a cross, according to Mario Cordova, an Olmec archeologist who traveled to the United States as part of the recovery mission.
The mountain was also made to resemble the head of a jaguar, ancient Mexico's most fearsome predator, with the cave doubling as its open jaws and the entrance into the underworld.
Some have speculated the sculpture may have been used in ritual acts as a sacred passageway.
"This is a very important piece," said archaeologist Sara Ladron de Guevara, a scholar of Mexico's Huastec culture, pointing in particular to the cross-shaped open mouth.
"I can't remember any other sculptures that include this kind of opening," she said.
Other scholars note how the worldview of the Olmecs as seen in the "Earth Monster" sculpture is a recurring theme across ancient Mexico, including up to the Aztecs, who began their rise to power around 1,700 years later and whose main temple also doubled as a sacred mountain.
"The mountain-cave-mouth symbolic complex acquired a high iconographic value throughout Mesoamerica from very early times, giving rise over the millennia to increasingly complex sets of images," according to a book written by the father-son scholarly duo Alfredo Lopez Austin and Leonardo Lopez Lujan.
Lopez Lujan currently leads excavations at the Aztecs' holiest shrine in downtown Mexico City.
The Olmec sculpture's return to Mexico was hailed by Mexico Foreign Minister Marcelo Ebrard, who spoke just before it was carefully hauled onto a plane for its trip back home.
"This gives us back something that explains where we come from," Ebrard said.