Monkeys in Thailand's Lopburi enjoys annual feast of fruit, desserts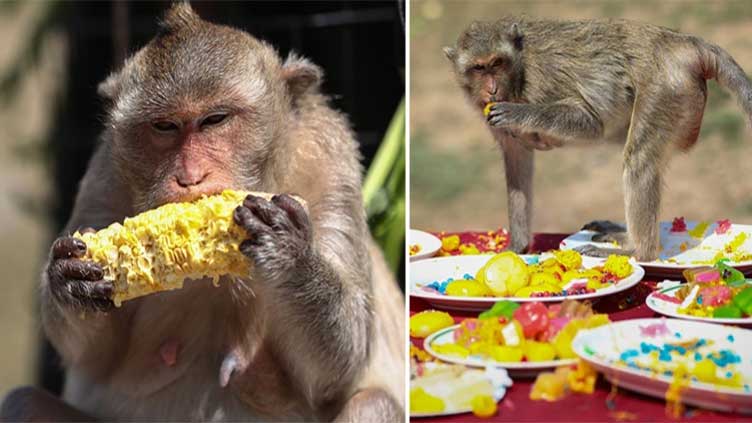 WeirdNews
Monkeys in Thailand's Lopburi enjoys annual feast of fruit, desserts
(Reuters) - A city in Thailand laid out plates of fruits, desserts and vegetable on Sunday (November 27) for thousands of monkeys as a token of appreciation for attracting foreign tourists to the city after all these years.
Led by businessman Yongyuth Kitwattananusorn, workers and tourists help dished out two tons of fruits and vegetables worth over 100,000 baht ($2,801.91) at the annual buffet festival for about 4000 macaques living on the street and inside the Phra Prang Sam Yod temple complex in downtown Lopburi.
"Among the fruits that we brought here today, the highlight of it all, and a favourite of the monkeys, are the durian, cherries which costs 700baht ($19.61) per kilogram - they like expensive fruits - and blueberries. This has already been the 34th year that we have held the feast (each year)," Yongyuth told Reuters.
The hungry macaques were jumping and clambering onto the fruit trays as they feasted. The event was a highlight for some local and foreign tourists.
"When we heard about this festival was happening while we're here, we had to come. It's just amazing, it's such a blessing and honored to be able to help arrange the fruit and it was so cool the way the monkeys received it, it was beautiful," said a tourist from Oregon, U.S., Jana Thrift.
The festival was started in 1989 by Yongyuth as a way to boost tourism in the province, which is home to a 10th century temple. The buffet will run throughout the whole day on Sunday as the macaques will get four different servings of food.