Published On 19 June,2021 06:28 pm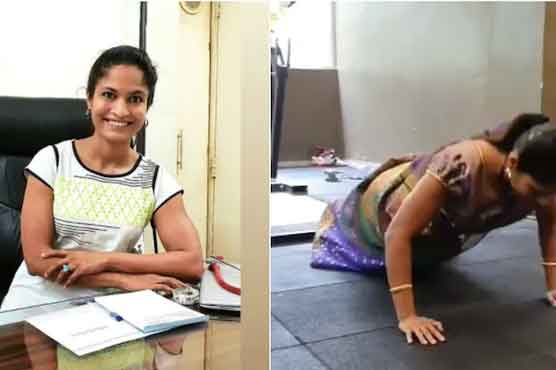 Indian woman does push-ups, weight training in saree
(Web Desk) - Indian woman does push-ups and weight training at a gym in saree in a viral video on the internet.
Dr Sharvari Inamdar is a resident of Pune and has become an internet sensation after her latest video, in which she wore a saree and did weight training at a gym, went viral on social media. She has been following a rigorous fitness schedule since the past five years and has mastered push-ups, pull-ups and weight training as well. In fact, she can pull off these exercises with effortless ease in a saree too.
Speaking to Indian media Dr Sharvari Inamdar said, "Frankly speaking, women do not wear sarees every day. It is not comfortable for everyone to wear a saree. But as an Indian woman, when we celebrate, we purposefully celebrate it with traditional Indian wear. So, wearing a saree should not be a barrier for any household woman to look after her body. So, that is why I am celebrating womanhood."
Furthermore, Dr Sharvari Inamdar added that every woman should include weight training in her fitness schedule.
"Weight training helps in improving your bone density and muscle mass. When you train with weights, you eat properly and take care of your body. You become strong, emotionally, physically and mentally, and you can take care of your family and society better," she said.
"Many women prefer doing yoga or dance exercises but we should include weight training in our routine because it is beneficial to stay young and enjoy life with strength, which can never be a weakness," she added.