Last Updated On 23 December,2019 04:16 pm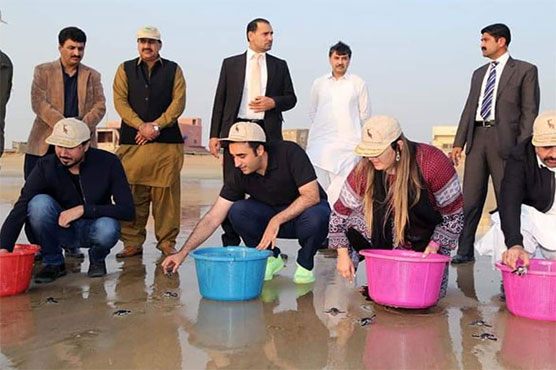 Sea turtles have a life expectancy of 100 years.
KARACHI (Reuters) - Hundreds of Green sea baby turtles recently made their way out into the Arabian Sea, released by Pakistani wildlife officials in a conservation effort spanning decades.
Bilawal Bhutto Zardari, son of former Pakistani Prime Minister Benazir Bhutto , and now Chairman of her Pakistan People's Party, along with his sister Bakhtawar assisted with the release at Hawksbay beach in Karachi.
Sindh Wildlife department says every October to November Green sea turtles arrive at the beaches of Hawksbay and Sandspit to lay eggs in the sand. Department staff look after the eggs until they hatch 40-60 days later at the Marine Turtle Conservation Nursery. They are then released back into the Arabian Sea.
This year the nestings were disturbed by recent storms in the Arabian Sea. Sea tides eroded some of the nesting sites, but Sindh Wildlife Department informed they have released more than 4600 sea turtle babies.
Sea turtles have a life expectancy of 100 years.