Inside Elon Musk, Jeff Bezos' bitter $400b rivalry as world's richest men fight for space dominance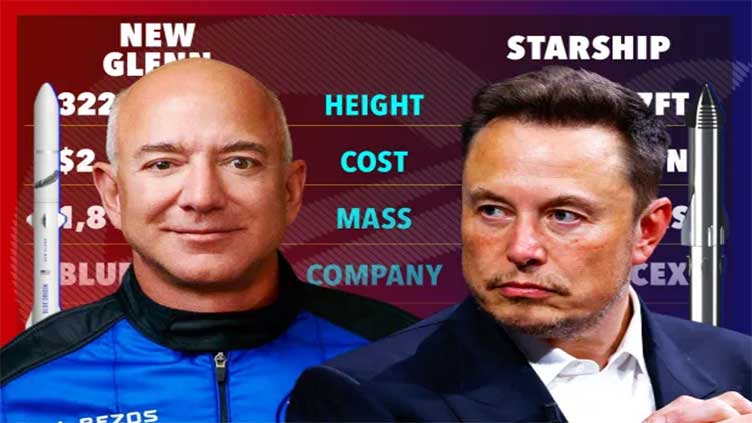 Technology
It comes after Musk's flagship rocket self-destructed in its latest test flight
(Web Desk) - Two of the world's richest men are pitting against each other to win the ultimate space battle.
The private rivalry between Elon Musk's SpaceX and Jeff Bezos' Blue Origin has been defining the 21st-century space race, but who is winning?
Musk launched SpaceX in 2002 - two years after Bezos founded Blue Origin in 2000.
With a combined net worth of $ 400 billion, the two men have clashed like Godzilla vs King Kong.
In 2013, Blue Origin filed a protest against SpaceX in an attempt to win over NASA and its Kennedy Space Center launchpad.
However, apart from filing lawsuits, both have been butting heads publicly and privately as they threw billion-dollar jabs at each other.
On many occasions, both Musk and Bezos infamously turned to X, formerly known as Twitter, to shade each other
One of the many tweets includes the SpaceX founder calling the Blue Origin CEO a "copycat," among taking digs at his Amazon pursuits.
On November 18, 2023, SpaceX made a second attempt to successfully launch Starship - the most powerful rocket ever constructed.
Over eight thunderous, drama-laden minutes, Elon's rocket - which is being developed to send humans back to the moon and onwards to Mars - blazed to space before losing contact.
The core objectives were to push through "hot-staging" - a method for separating Starship from its Super Heavy booster after launch.
But just seconds after the successful separation - a milestone Elon failed to achieve earlier in April - the booster burst into flames to destroy itself.
Over the next six minutes, Starship hurtled to an altitude of 77 miles while reaching 14,989mph - but it too was lost in a fireball.
While Musk, 52, hopes to conduct another Starship test before the end of this year and more in 2024, it may soon have to share the limelight as Bezos.
The world's third-richest man is preparing to light a fire under his own out-of-this-world ambitions.
After spending 30 long years dominating cyberspace, the founder of Amazon is now moving to Florida to focus more on the space race - an announcement he made two weeks before the failed SpaceX mission.
It is a symbolic move by the Amazon founder since both NASA and SpaceX have their bases in Florida.
He launched the first sub-orbital rocket rides for paying passengers aboard his New Shepard rocket in 2021.
And now he is stepping up the development of New Glenn - a more powerful, orbital-class vehicle intended by Blue Origin to compete against SpaceX's flagship rocket.
Both billionaires - with a combined net worth of a whopping $400 billion - have been publicly butting heads since 2004 to win the ambitious space race with their respective rocket companies.
Bezos is betting on space tourism, guided by Blue Origin's motto: "Gradatim Ferocite," which is Latin for "step by step, ferociously".
"The long-term goal of our small team is to find a way for a person to gradually get used to outer space," says the Blue Origin founder.
"We will achieve it slowly, step after step. Be turtles, not hares, and spend resources wisely."
The first Blue Origin New Shepard flight with people took place only last year, but Jeff Bezos plans to make such trips regular in the future.
However, not everything going on in Blue Origin's courtyard is without flaws.
Despite having high levels of safety and comfort, Blue Origin flight lasts only 11 minutes, and passengers spend only three of those minutes in zero gravity - not ideal to win over SpaceX's astounding developments.
Unlike Bezos, Musk has adopted a more robust tactic for SpaceX and operates through risky innovations.
SpaceX started developing launch vehicles that could significantly reduce the cost of launching payloads into orbit and possibly colonising Mars - Musk's childhood dream.
The strategy of working tirelessly helped to quickly earn the trust of the government and business, attracting multibillion-dollar venture capital investments and securing large government contracts for SpaceX.
Even after failing several times, it took just two years for SpaceX to work out the bugs and successfully launch a Falcon 1 payload into orbit, and two more to enter the market with the SpaceX Falcon 9 and the Dragon cargo ship to deliver payloads to the International Space Station.
Today, SpaceX Falcon 9 launches more rockets per year than any other launch vehicle in the world - and its cost of putting a one-kg payload into orbit is the lowest in the world.
But to be fair, Bezos' latest development - the New Glenn rocket, does sound promising.
However, it is nowhere close to Musk's flagship Starship - which is bigger, more powerful, and much more versatile.
It will take a good while for Bezos' developments to become fully operational - and its position over Starship would still be a question.
The odds of Starship cracking the first fully-successful flying attempt are higher.
But with two back-to-back failures while attempting the first orbital flight, Bezos still has some time it seems - and loads of money - to turn things around.