Singapore push for all-EV future faces a love of crazy, rich combustion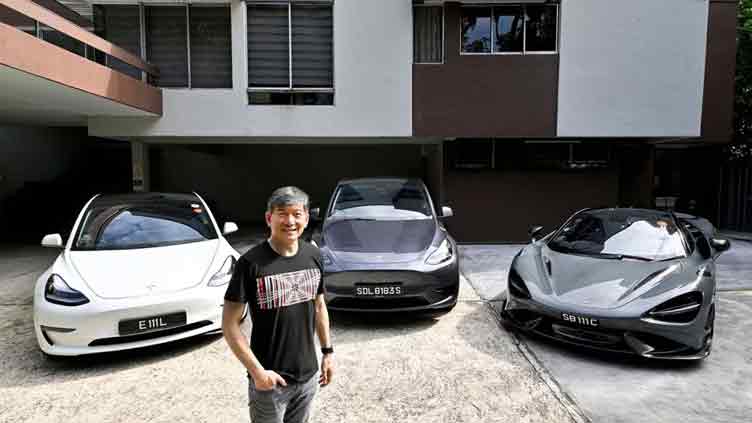 Technology
The Singapore government has been pushing electric vehicles (EVs) for two years
SINGAPORE (Reuters) - Singaporean chip designer Eu Gene Goh is an electric-vehicle evangelist with two Teslas (TSLA.O) in the garage.
But the car-tech enthusiast is also not ready to give up his S$1.6-million ($1.21 million) McLaren 765LT with a V8 engine capable of hitting 100 km per hour (62 miles per hour) in three seconds.
The city-state's bid to stop the purchase of combustion-engine cars from 2030 has bumped up against an entrenched love of supercars, ultra-luxury rides and buyers with enough income to keep them in one of the most expensive places in the world to own a car.
Singapore's target of phasing out combustion car sales by 2030 puts it in a small group of countries with that near-term goal, including Iceland, Sweden and the Netherlands, but sales of electric cars in those markets have picked up faster.
The Singapore government has been pushing electric vehicles (EVs) for two years, offering incentives of up to S$45,000 and expanding the charging network, but take-up by individual buyers will need to vastly accelerate to hit the target.
EV made up almost 12% of all car sales in Singapore last year, up from almost 4% in 2021, according to the Land Transport Authority.
Still, EVs represented just 1% of cars on the road, a Reuters analysis of ownership data found. By comparison, combustion sports cars in a city where the Formula 1 Grand Prix is one of the biggest events of the year made up 1.65% of the almost 653,000 registered vehicles.
In Singapore, a small island with an extensive public transport system, only about 12 cars are owned per 100 people. That compares to 9 per 100 in Hong Kong and 82 in the U.S.
One factor is price: it costs at least S$88,000 for the right to own a small car for a decade, excluding the vehicle's cost in Singapore, a system that has driven luxury sales.
Over the past decade, the number of Ferraris (RACE.MI) in Singapore has grown by 67% and Lamborghinis by 38%. The number of McLarens has grown more than five-fold to 180 since 2012, the data shows. There are almost five times more Porsches (PSHG_p.DE) on the road than Teslas.
"Basically, the entire market has moved upscale," said Singapore-based transport economist Walter Theseira.
Singapore's preference for luxury and performance cars was a function of rising wealth among a cohort of residents while lower-income people were priced out car ownership, he added.
HSBC estimates 13% of Singaporeans may be millionaires by 2030, the highest share in the world.
PERFECT SHOWCASE FOR EVS
A charity auction of 100 limited-edition "made in Singapore" Hyundai (005380.KS) Ioniq 5s earlier this year managed to sell only half of the special-edition EVs embossed with the city's Merlion mascot.
Hyundai said it was "encouraged to see the result, considering the unfamiliarity and newness" of the EV, but declined to say how much the auction had raised.
Markus Schuster, managing director at Audi Singapore, believes EVs will constitute the majority of new car sales as early as 2025 or 2026 as more premium models like Audi's Q8 e-tron and Q4 e-tron hit the market.
"As a showcase for EVs, the city is perfect," he said.
Singapore drivers average just 30 km a day and do not have the same kind of "range anxiety" as drivers in the U.S. and Europe, Schuster added.
The government plans to build 60,000 charging points by 2030, up from 1,600 now, which Schuster believes will be a tipping point to achieve the 2030 target.
Goh, the McLaren owner, is already an EV convert. He loves that he doesn't have to keep the engine running on school pick-ups and that the cost for charging his Tesla Model 3 last year was under S$700 for 11,000 km of driving.
"For a daily driver, I wouldn't go back to a normal petrol car," he said.
But Goh is keeping his McLaren for now so he can enjoy the car's performance on a race track he visits in Malaysia.
"I like technology and I find supercars, especially McLarens, it's like taking technology and art and putting it together," he said.