Facebook activates 'Safety Check' option for Pakistan earthquake crisis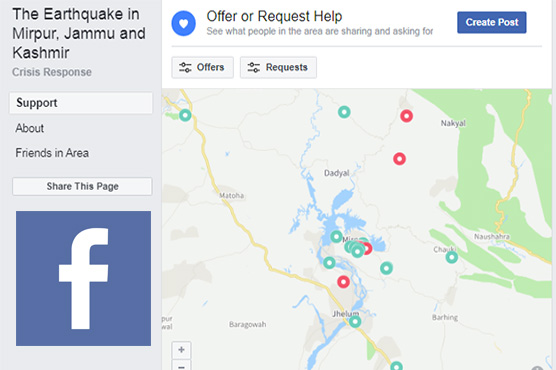 Facebook Safety Check helps people determine whether others in affected geographical area are safe.
LAHORE (Dunya News) – Facebook activated its 'Safety Check' option for the tragic incident of earthquake hitting parts of Pakistan including Mirpur, Azad Kashmir where havoc wreaked and many lost lives.
'Safety Check' also known as 'Crisis Response' is a feature managed by the social networking company Facebook. The feature is activated by the company during natural or man-made disasters and terror-related incidents to quickly determine whether people in the affected geographical area are safe.
People can mark themselves during such crisis and reassure their friends and family of their safety. It also helps people nearby to connect directly or find help for resources like food, supplies or shelter. Moreover, it can also help in fundraising and donation for those affected by crises. And on the top of that, it also keeps you updated with relevant information about a crisis from a variety of sources.
You can also offer or request help for the victims affected by earthquake in Mirpur, Azad Kashmir: Click here to help through Facebook Crisis Response option
Earlier, At least 19 persons were killed and more than three hundred injured as 5.8 magnitude earthquake rattled Azad Kashmir and other parts of Pakistan.
Rescue teams have rushed to the spot and emergency has been declared at all the hospitals. Meanwhile, mobile service has also been affected in the area.