Kvaratskhelia: Boy from rural Georgia turned Napoli star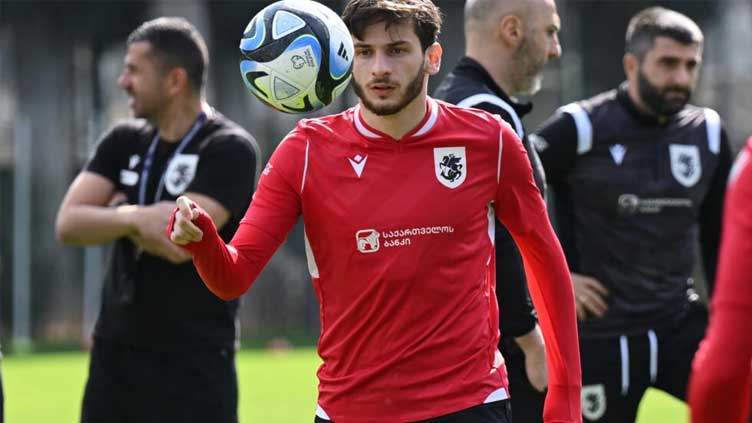 Sports
The forward spent five years at Dinamo Tbilisi's academy from the age of 11
Tbilisi (AFP) – Khvicha Kvaratskhelia started out knocking the ball about as a barefoot boy by a riverside in rural Georgia, but is now one of the hottest properties in world football.
Following in his footballer father's footsteps, the forward spent five years at Dinamo Tbilisi's academy from the age of 11. He is currently dazzling for runaway Serie A leaders Napoli, with 14 goals and 14 assists in all competitions this season.
"Few could imagine at the time that the lean boy would become an international star," the then-advisor to Dinamo Tbilisi's president, Levan Salukvadze, told AFP.
Back in 2017, when Kvaratskhelia began his senior career at Georgia's preeminent club, aged 16, "managers feared he wasn't physically fit (enough) to play with seniors", Salukvadze said.
"The club's president suggested to wait a couple of more years before he joins the team, but I told him that in two years' time Kvaratskhelia would be playing for Liverpool or Real."
Now, Kvaratskhelia is an international star dubbed "Kvaradona" by Napoli fans in reference to their revered icon Diego Maradona. As a child, he was a "shy, disciplined boy who lived for football", according to Salukvadze.
"Since his childhood, he was fully concentrated on football and up until today football is more than just a job to him... that's why his feints, play, running, and acceleration are this joyful."
Dinamo Tbilisi's then-chief scout Teimuraz Ugrekhelidze described him as a "very talented kid, distinguished for his speed and technique". "His technique was not only about not losing the ball, he was always ready to take the offensive," he added.
"Kvaratskhelia never skipped a single training, he was an example for the team as a talented and extremely purposeful player who always does his best to win."
Biographer Giorgi Kekelidze said Kvaratskhelia's talent is rooted in the love for football he had seen as a child in his family and his native village in western Georgia.
In almost every interview, Kvaratskhelia credits family for his achievements. "His grandfather Mamia and father Badri were successful footballers and his grandmother Dunia -- an avid, yet very strange football enthusiast," Kekelidze said.
"She used to wish all the football matches end with a draw, so that nobody gets upset. "But that changed after Khvicha moved to Napoli. Ahead of his game, she would make the sign of the cross on her TV set and pray for his win."
When Dunia died in January, Kvaratskhelia wore a bangle with her name during Napoli's match with Roma. "There is a great love for football in Nakifu," the remote village of bucolic landscapes and just 700 people, Kekelidze said.
It may seem an unlikely cradle for a rising global phenomenon, but "'shining star' is exactly what his first name, Khvicha, means in the Mingrelian language" spoken in his native region. A veteran historian of Georgian football, Tengiz Pachkoria, who followed Kvaratskhelia's career from his early years, said the nation's rich football traditions have shaped him as a player.
During the bygone golden age of Georgian football -- that flourished from the 1960s to the 1980s, -- "Georgian footballers were referred to as 'Soviet Brazilians' in the European press," he said. "That was highly technical, improvisational football to which belongs the whole group of great footballers and Kvaratskhelia's style originates from their football aesthetics," he added.