Rybakina beats Pegula to reach Miami final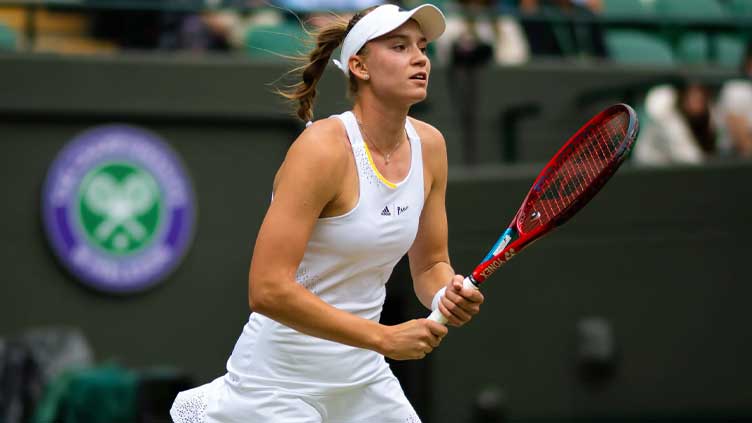 Sports
Kazakhstan's Rybakina is on course to claim the 'Sunshine Double' after winning in Indian Wells
MIAMI GARDENS (AFP) - Wimbledon champion Elena Rybakina reached the final of the Miami Open by beating American world number three Jessica Pegula 7-6 (7/3), 6-4 at Hard Rock Stadium on Thursday.
Kazakhstan's Rybakina is on course to claim the 'Sunshine Double' after winning in Indian Wells earlier this month. The 23-year-old, ranked seventh in the world, will face the winner of Friday's semi-final between Petra Kvitova and Romanian Sorana Cirstea.
In a rain-disrupted match, neither player was able to settled into their serve with 11 breaks in total throughout the two sets. Pegula had been 4-2 up in the second set but after she was broken again, the contest turned decisively in Rybakina's direction when the American, on her serve, found the net on a return to go 5-4 down to the Moscow-born Rybakina.
Rybakina then held her serve with ease to secure back-to-back WTA 1000 finals and she said the unwelcome prospect of a third set had pushed her to take a more positive approach.
"I think that I started being a bit more aggressive because I knew that if it's going to go to the third set, it's going to be much more difficult, so I maybe risked a bit more in the end of the second set," she said, noting how tough it has been to go all the way in back-to-back tournaments.
"It's really difficult because of different conditions and these two weeks by the matches, you will see that it's been much more difficult for me here than in Indian Wells, but for the sunshine double, I am going to give it my best and hopefully I can make it," she added.
Pegula was left to regret not being able to hold after making breaks. "I think she was playing better as in those moments, she was returning really well. I guess I could have served a little better, but sometimes I was hitting pretty good serves and she was still ripping returns," she said.
"But that's her game, she's pressuring you on your serve as well to come up with something big and I just wasn't able to really do that I guess," she said.