Ukraine fencers unite behind federation's boycott call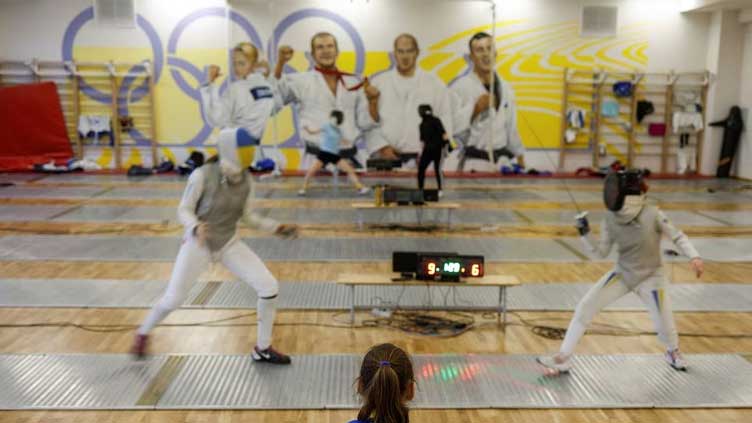 Sports
Russians and Belarusians have been banned from most elite international sporting competitions
Kyiv (Reuters) - Ukraine's fencers have welcomed their federation's decision to boycott international competitions featuring Russians and Belarusians, amid a row over whether athletes from the two latter countries should be allowed at next year's Olympics.
Russians and Belarusians have been banned from most elite international sporting competitions since Russia invaded Ukraine in February last year, in what Moscow calls a "special military operation".
However, fencers from Russia and Belarus were cleared to return to international events at the fencing global federation's (FIE) Extraordinary Congress on March 10, days before the window for 2024 Paris Olympic qualifying opens.
The move prompted Ukraine's fencing federation (NFFU) to say it would boycott all events in which Russians and Belarusians were included, a message reinforced this week by NFFU president Mykhailo Illiashev.
"The Russian and Belarusian fencers that take part in these competitions are mostly servicemen," Illiashev told Reuters. "They are in active service, with contracts and enlisted by the Russian army.
"How can one expect a Ukrainian to turn up at the competition, come to the fencing strip without any aggression to compete with a Russian soldier, shake his hand after the game?
Illiashev added that fencing's rules meant Ukrainian athletes would be forced to shake hands with any Russian or Belarusian opponents they faced."Unlike tennis, where there are no consequences, in fencing, failing to shake your opponent's hand results in getting a black card and being disqualified," he said.
The IOC and FIE's decision to create a qualification pathway that could allow Russian and Belarusian athletes to compete in Paris next year was further criticised by Ukrainian fencer and Olympic hopeful Olha Sopit.
"It's completely inappropriate," she said. "We, the athletes... have to do everything possible for this decision to be revoked. "I'm disgusted by the thought of competing with those who kill our people, invade our land. Fencing is a sport of honour. I am required to salute my competitor and shake their hand, even if I don't want to do it."
The war has destroyed 343 sports facilities in Ukraine, leaving an estimated 140,000 young athletes without places to train, according to data collected by international athlete-led organisation Global Athlete.
"We aren't giving up," said Ukrainian fencing coach and former Olympian Olha Leleiko. "We will look for other ways (of opposing the FIE's decision) while continuing training. And, along with our friends, we will look for competitions in which Russian athletes do not participate."
Ukrainian fencer Darya Varfolomeyeva shared a video of herself this week at a World Cup event in China, in which she said she was prevented from displaying a banner highlighting athlete casualties caused by the war.
Varfolomeyeva posted the video along with a caption saying: "Today at World Cup in China we wanted to take a picture with a banner where we showed how many athletes were killed by Russia.