Belgium have new energy says De Bruyne after World Cup flop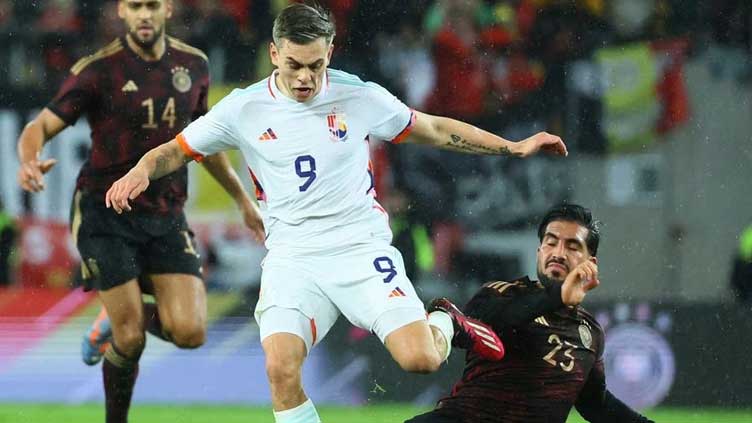 Sports
Belgium began a new era over the last week with two impressive wins
COLOGNE, Germany (Reuters) - Belgium captain Kevin De Bruyne says new players in the squad are injecting energy into the team after the failure of their "golden generation" to live up to their number one ranking over the last four years.
Belgium began a new era over the last week with two impressive wins – beginning their Euro 2024 qualifying campaign by beating Sweden 3-0 away and then triumphing 3-2 on Tuesday in a friendly against Germany in Cologne.
It was a positive start for new coach Domenico Tedesco, who replaced Roberto Martinez after Belgium's surprise early elimination at the World Cup in Qatar last year.
Belgium had spent some three years top of the FIFA rankings in the period between the 2018 World Cup in Russia and the 2022 finals but never came close to a major title, being eliminated in Euro 2000 quarter-finals and then the first round in Qatar.

"You can see that the young players give us new energy," said De Bruyne, who explained the difference with Tedesco's predecessor was that Martinez mainly relied on the older guard.
"They come here now with the feeling that they will have opportunities and they fight for the national team. If all the players are in the right place, the quality comes through," De Bruyne told reporters.
"I'm really satisfied with the two wins," Tedesco told Belgium's VTM television. "Not only with the results, but also the manner in which we played. "It is crucial that the enthusiasm is back. I have a good feeling and am extremely motivated. However, we still have a lot of work to do. If you win, it's more fun, of course. But I do not agree that Belgian football was at a standstill after the World Cup. Losing matches at a World Cup, that can happen."
Tedesco, who was born in Italy but grew up in Germany and last worked at RB Leipzig, was particularly pleased with a rampant first-half showing on Tuesday.
"I wanted my players to show courage, to play forward and to claim the ball, even when Germany put pressure on us. We have the players for it. We have to believe in our own strengths, but we have to maintain the quality we bring for 90 minutes. "And that's the problem. In the second half we fell too far back, that was not according to plan. We have to maintain the quality for longer."