Good soccer and big wins help Barcelona leave scandal aside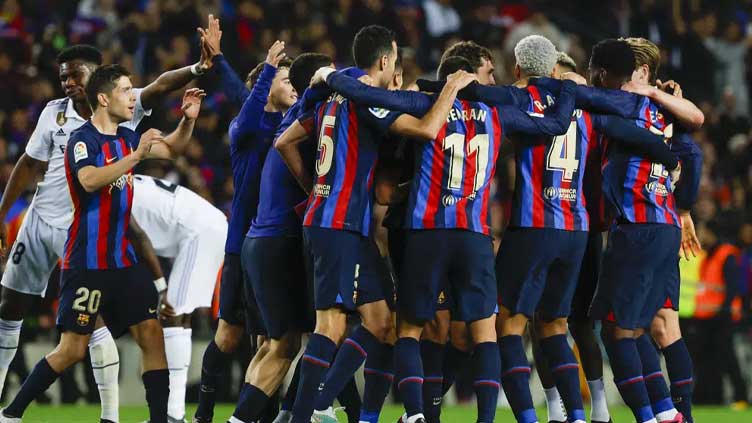 Sports
Good soccer and big wins help Barcelona leave scandal aside
MADRID (AP) — By playing good soccer and winning big matches, Barcelona is leaving aside the distractions of its latest scandal.
With its second win over Real Madrid in less than three weeks, Barcelona made sure there is more talk about the team's prowess on the field than the club's alleged troubles away from it.
The Catalan club has been under scrutiny over its payments of several millions of dollars over several years to the former vice president of the country's refereeing committee. The club will have to defend itself in the courts after being formally accused by prosecutors with alleged corruption, fraudulent management and falsification of documentation.
Barcelona is holding its own just fine on the field, though. It rallied for a 2-1 win over Madrid on Sunday to all but secure its first Spanish league title since 2019. The victory, coming on a stoppage-time winner by Franck Kessié after Madrid took an early lead at the Camp Nou, gave Barcelona a more-than-comfortable 12-point lead over its rival with 12 games left.
"It was a happy locker room," Barcelona coach Xavi said. "We can't forget where we are coming from. Last year, the gap to Madrid was 12 points, but we were behind. In October we were three points back, so we made up 15 points to Madrid. You have to give credit to how things are being done in this club."
Madrid is among the clubs siding against Barcelona in the legal proceedings, as is the Spanish government, the league and the soccer federation. Barcelona has consistently denied any wrongdoing or conflict of interest, saying it paid for technical reports on referees but never tried to influence their decisions in games.
Madrid did leave the Camp Nou complaining about the refereeing, though, after its 81st-minute go-ahead goal by Marco Asensio was disallowed by video review in a tight offside call. Madrid coach Carlo Ancelotti said the offside wasn't clear enough to be overturned.
Barcelona had already been saved by the VAR last weekend when Athletic Bilbao's equalizer was called back after a controversial handball in the buildup of Iñaki Williams' 87th-minute goal.
Despite the recent help, Barcelona has been playing well under Xavi and finding ways to win when the team is not on its best form or dealing with injuries like the recent ones to Robert Lewandowski, Ousmane Dembélé and Pedri.
Barcelona is seeking its first league title since being dragged into a deep financial crisis that led to the departure of Lionel Messi to Paris Saint-Germain. It's chasing a 27th league trophy, which would leave it eight behind Madrid.
Barcelona won eight league titles in 11 seasons through 2019. Since then, it finished second to Madrid in 2020, third — behind Madrid and champion Atletico Madrid — in 2021, and second to Madrid again last season without Messi.
This year it has already won the Spanish Super Cup — the team's first trophy since the 2021 Copa del Rey. The Catalan club was eliminated from both the Champions League and Europa League again, but remains alive in the Copa. It is facing Madrid in the semifinals, having won the first leg 1-0 at the Santiago Bernabéu Stadium after another solid performance. The return leg is next month at Camp Nou.
Barcelona will need another big result then to keep the spotlight on Xavi's team and not on the club's off-the-field problems.