Rib injury threatens beaten Swiatek's Miami Open defence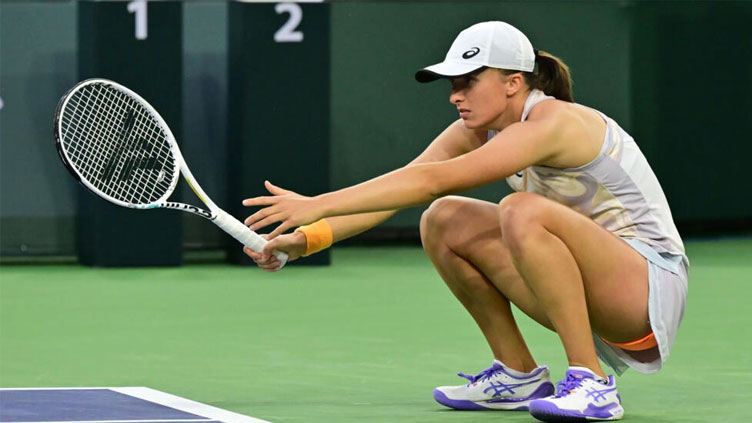 Sports
I have a little discomfort in my rib, and we're going to consult with medical team
Indian Wells (United States) (AFP) – Iga Swiatek's Indian Wells title defense ground to a halt in a straight sets semi-final loss to Elena Rybakina on Friday, the world number one later revealing she is battling a rib injury.
"For sure, Elena played great tennis today, and I feel like against her I have to play better," Swiatek said after falling 6-2, 6-2 to the Wimbledon champion -- who also shocked her in the Australian Open fourth round.
"Honestly, I feel like it's more me and kind of my mistakes," she said. "I'm also not feeling 100% physically. I have a little discomfort in my rib, and we're going to consult with medical team." Swiatek said she still planned to defend her title at the Miami Open that starts next week.
"For now I'm preparing to play, but we'll see what (the) next days are going to tell us," she said. "I don't know yet." Swiatek was disappointed that she was unable to implement the tactics her coach had devised after analyzing her loss to Rybakina in Melbourne.
"We were thinking about the Australian Open more like we wanted to kind of learn a lesson from that match," she said. "We were analyzing ... so I wanted just to kind of use his tips and improve my game. But I wasn't able to do that today." She said she hadn't had much experience of playing through injury, the only example she recalled coming at the 2019 French Open.
"It's a new situation for me, for sure," the 21-year-old said. "For sure now it's a totally different level. So I feel like going on (for) matches you have to be 100% fit. "I have been playing, so there has been some fatigue all the time," she said. "I would say it's kind of constant, but I'm pretty sure that tomorrow or day after will help in recovery."