'I want revenge': Lehecka eyes Tsitsipas upset at Australian Open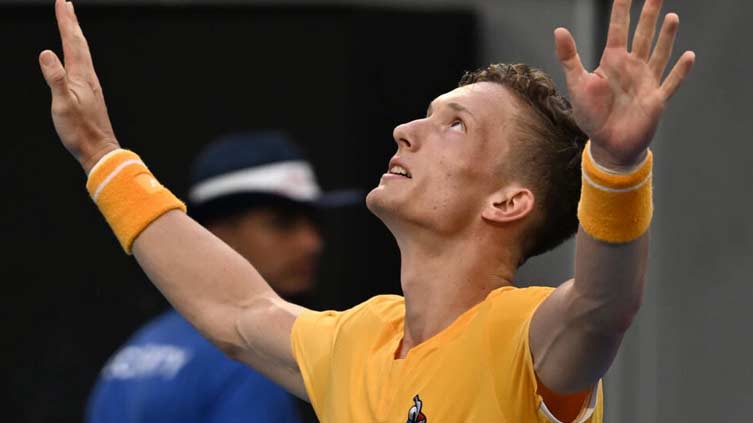 Sports
Lehecka eyes Tsitsipas upset at Australian Open
MELBOURNE (AFP) – A confident Jiri Lehecka has warned Stephanos Tsitsipas he wants revenge and knows how to play against him ahead of their Australian Open quarter-final on Tuesday.
The rising Czech 21-year-old is one of the tournament surprise packages, racing into the last eight at a Grand Slam for the first time after being knocked out in the opening round at all four majors last year.
Ranked 71, he plans to make the most of his moment in the spotlight, with unfinished business against the Greek third seed.
In Lehecka's biggest breakthrough before his dream Melbourne Park run, he made the semi-finals last February in Rotterdam -- before being beaten by Tsitsipas.
"I will go for that revenge, for sure. I know that he will remember how we played last year in Rotterdam. One set I was the better player on the court. Then he overtook the match," he said.
"But I think that he will remember, and he will know what my strengths are. He will feel that I can get him under the pressure."
In the Rotterdam showdown, Lehecka won the first set 6-4 before succumbing to the Greek star's superior firepower 6-4, 6-2.
"He's a great player. I mean, he's number four in the world. Anyway, if you are in top 10, then you must show some extraordinary tennis," said Lehecka.
"(But) I know how to play against him. Of course, the match last year from Rotterdam semi-final will help me a lot, how to imagine some things, how it went over there, how to prepare for this next match-up."
Lehecka's heavy baseline hitting and silky net play proved too much for sixth seed Felix Auger-Aliassime in the fourth round on Sunday, when the Czech clocked an impressive 4-6, 6-3, 7-6 (7/2), 7-6 (7/3) victory.
It was his first win against a top-10 opponent at the fifth attempt.
Lehecka said he had taken a lot of confidence from his recent results -- including a run to the championship match at the Next Gen Finals in Milan late last year -- and by powering into the top 100.
"I think that the moment when I broke into top 100 was, of course, one of the most beautiful things," he said.
"But right after it brought lot of new challenges, new experiences. It was my first time playing all these big tournaments. It was my first time playing all these big players, great names.
"Practising with them, being part of the tour, for me, that was a lot of new things which I learned and I was trying to learn during the way. Of course, with this, some bad results came.
"I think at the Next Gen, I finally found my game and I found how to play what I want to play, and how to beat great guys on big stadiums."