Quick learner Korda claims another upset at Australian Open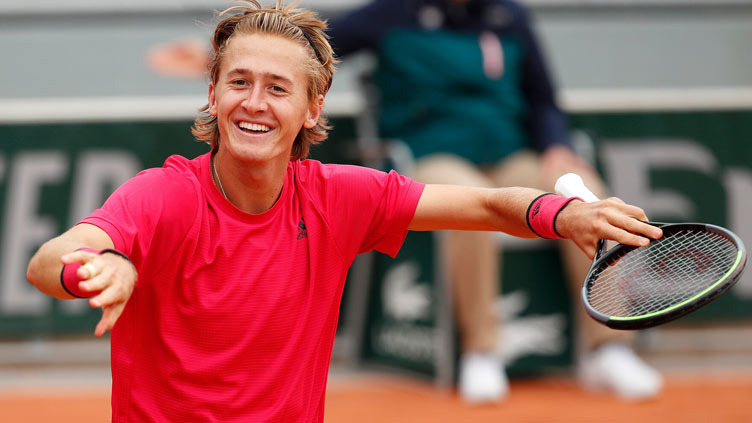 Sports
Quick learner Korda claims another upset at Australian Open.
MELBOURNE (AFP) – Giantkiller Sebastian Korda said that learning from his mistakes helped him surge into a maiden Grand Slam quarter-final on Sunday at the Australian Open.
The American 29th seed came through a rollercoaster 10-point deciding tiebreak to beat 10th seed Hubert Hurkacz 3-6, 6-3, 6-2, 1-6, 7-6 (10/7) on Rod Laver Arena.
He faces 18th-seeded Karen Khachanov next after the Russian crushed Yoshihito Nishioka 6-0, 6-0, 7-6 (7/4), incredibly winning the first 14 games before the Japanese player woke up.
Korda, whose father Petr won the title in 1998, produced one of the performances of his career to upset two-time Australian Open finalist Daniil Medvedev in the third round.
After more heroics against Poland's Hurkacz, Korda said his displays were down to learning from previous blockbuster matches he had lost, including to Rafael Nadal and Novak Djokovic.
"I think I'm really good at just kind of moving forward, learning from my mistakes, what I've done in the past, then using them in matches like this," he said.
"I've had a tough match with Rafa, serving for it a couple times. Match point with Djokovic. I think that really helped me, especially in the last match (in Melbourne) with Medvedev.
"Then today as well. I think all those little moments that I've gone through, kind of learning from them, staying patient, staying positive, going through the process, I think have really helped me going forward."
He had to dig deep to topple Hurkacz after a slow start.
The Pole took immediate charge on a hot day to break and race through the opening set.
But Korda came alive and hauled himself back into the contest, improving his first-serve percentage while cutting down on unforced errors.
He worked a break to move 3-2 clear and held on to take the second set.
With Hurkacz on the back foot, the American kept the pressure on and raced into a 4-0 lead in set three, but lost his focus as the fourth set got under way.
The Pole won five games in a row to take the match to a decider, where they went toe-to-toe until the drama-filled tiebreak.
Defeat was a bitter pill for Hurkacz, who was aiming to become the first Polish man to reach the Melbourne Park quarter-finals.
Annihilation
Like Korda, Khachanov is into a maiden Australian Open quarter-final and he got there in style.
Nishioka, seeded 31, was so out of touch in the opening two sets that he won just 13 points.
In set two he managed only two points across six games in an embarrassing annihilation.
Khachanov appeared on track to become only the sixth player in Grand Slam history, and the first since 1993, to record a triple bagel win -- 6-0, 6-0, 6-0 -- before Nishioka finally won the 15th game -- to huge cheers from the crowd.
"First two sets I didn't know what was going on," said the Russian, a semi-finalist at the US Open last year.
"You're going with the score, let's say, too easy. Then Yoshi turned it around, pumped the crowd and I tried to stay focused from beginning to end."
The Russian has won four career titles, all on hard courts, and was simply too good for Nishioka.
He broke the Japanese star straight away, then twice more, as Nishioka struggled with his first serve and Khachanov attacked the second.
Things did not improve for him in the next set, with Khachanov breaking twice early to go 4-0 clear, with Nishioka destroying his racquet in frustration.
The Olympic silver medallist romped through the set in just 20 minutes, but with a rare triple bagel on the cards, Nishioka finally got on the board in set three.