'I wanted it too hard, I need to chill' says stunned Swiatek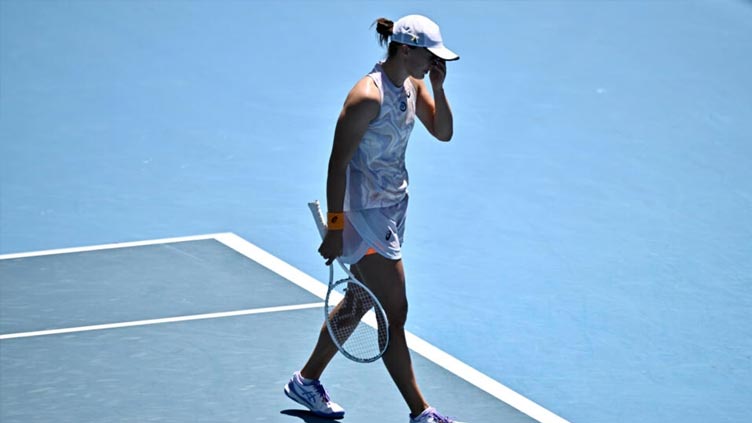 Sports
Swiatek said she would strive to recapture her stunning form of 2022.
MELBOURNE (AFP) – World number one Iga Swiatek said she had felt the pressure and needed to "chill", after suffering a stunning exit in the Australian Open last 16 on Sunday.
The Pole came into Melbourne Park as a red-hot favourite for the first Grand Slam of the year, but was overpowered in straight sets by Wimbledon winner Elena Rybakina at Rod Laver Arena.
The 21-year-old Swiatek admitted she buckled under the weight of expectation as her dream of a fourth major crown -- but first in Australia -- was shattered.
"Well, for sure, past two weeks have been pretty hard for me," a downcast Swiatek told reporters
"I felt today that I don't have that much left to fight even more," she said.
"I felt like I took a step back in terms of how I approach these tournaments, and I maybe wanted it a little bit too hard.
"So I'm going to try to chill out a little bit more."
Moscow-born Kazakh Rybakina, whose power game proved too much for the normally rock-solid Swiatek, now faces a quarter-final against Jelena Ostapenko.
The Latvian 17th seed provided the second upset of a crazy few minutes at Melbourne Park by knocking out Coco Gauff 7-5, 6-3 on the neighbouring Margaret Court Arena.
Swiatek dominated women's tennis in 2022 after the retirement of last year's Australian Open champion Ashleigh Barty, at one point going on a 37-match unbeaten streak to become the woman everyone wants to beat.
"I felt the pressure," Swiatek admitted. "I felt that I didn't want to lose instead of wanting to win."
The 6ft tall (1.82m) Rybakina always seemed to be in control of the match, particularly once her first serve, one of the fastest in the women's game, got into gear.
"Elena was the one that was more solid today and I felt like it was more about who is going to put more pressure on, and she did that pretty well," said Swiatek.
Rybakina, the 22nd seed, slapped down six aces to Swiatek's two and fired home 24 winners to the Pole's 15.
"She served, you know, as she does usually," said Swiatek.
"I wanted to put it back on her, but on my service games I felt like I need to just work really, really hard to get any point because my first serve wasn't working."
Swiatek said she would strive to recapture her stunning form of 2022.
"For sure I need to work on my mindset and fight a little bit more, as I did last season," she said.
"I'm going to take time right now to kind of reset."