Khachanov wins 14 straight games to crush Nishioka at Australian Open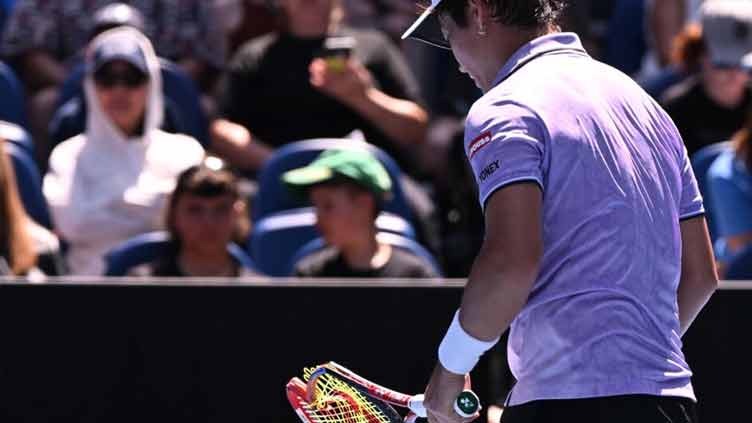 Sports
Nishioka, seeded 31, was so out of touch in the opening two sets that he won just 13 points.
MELBOURNE (AFP) – A dominant Karen Khachanov won the first 14 games before surging into his maiden Australian Open quarter-final on Sunday in a straight sets romp over Japan's outclassed Yoshihito Nishioka.
The Russian 18th seed swept past his racquet-smashing opponent 6-0, 6-0, 7-6 (7/4) on John Cain Arena.
Nishioka, seeded 31, was so out of touch in the opening two sets that he won just 13 points.
In set two, he managed only two points across six games in an embarrassing annihilation.
Khachanov appeared on track to become only the sixth player in Grand Slam history, and the first since 1993, to record a triple bagel win -- 6-0, 6-0, 6-0 -- before Nishioka finally won the 15th game to huge cheers from the crowd.
The victory put him into the last eight at a Grand Slam for the fifth time. His best result was reaching the semi-finals at the US Open last year, where he lost to Casper Ruud.
He will next face either American 29th seed Sebastian Korda or Polish 10th seed Hubert Hurkacz.
"First two sets, I didn't know what was going on," he said. "You're going with the score, let's say, too easy. Then Yoshi turned it around, pumped the crowd and I tried to stay focused from beginning to end.
"It's not easy to win with this score, three sets, but I'm playing well and really happy to go through," he added.
The Russian, a former world number eight, has won four career titles, all on hard courts, and was simply too good for Nishioka.
He broke the Japanese star straight away then twice more as Nishioka struggled with his first serve and Khachanov attacked the second.
Nishioka hit just three winners in the opening set, while making 12 unforced errors in a 26-minute thrashing.
Things did not improve for him in the next, with Khachanov breaking twice early to go 4-0 clear, with Nishioka destroying his racquet in frustration by repeatedly smashing it to the ground.
The Olympic silver medallist romped through the set in just 20 minutes, but with a rare triple bagel on the cards, Nishioka lifted in set three.
He broke and then held to the delight of the crowd to make a match of it before finally succumbing in a tense tiebreak.