Djokovic downs Dimitrov to advance in Australian Open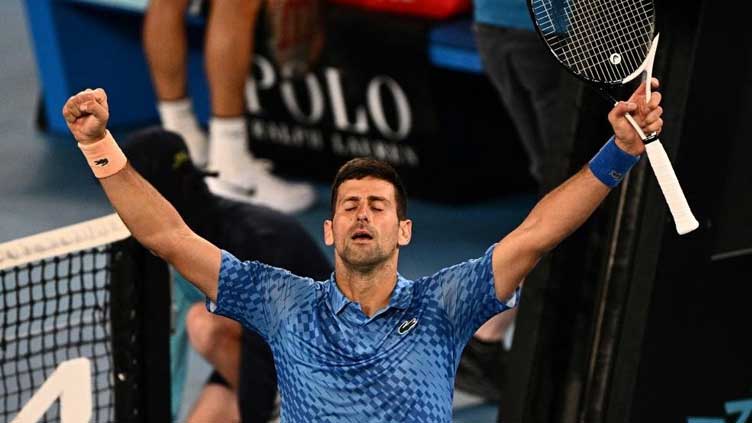 Sports
Djokovic downs Dimitrov to advance in Australian Open
MELBOURNE (Reuters) - Novak Djokovic continued his charge towards a 10th Australian Open title with a superb 7-6(7) 6-3 6-4 victrory over Bulgarian Grigor Dimitrov to reach the fourth round on Saturday but fears about the durability of his injured left hamstring only grew.
The Serbian, who is eyeing a 22nd major to match Rafa Nadal, said he felt "up and down" physically during the three hours and seven minutes he was on court as Dimitrov searched in vain for his second win over the fourth seed in their 11th meeting.
Fourth seed Djokovic looked uncertain in his movement during a roller-coaster first set where he began with a break, squandered three set points at 5-3 and dropped serve late on before edging a thrilling tiebreak.
"Well it (the tiebreak) was as important as any other game. But I think that probably was one of the most important moments in the match," Djokovic told reporters.
"To prevail in the tiebreak and get a set ahead. Being a set down or a set up is a big difference. Mentally and physically... Kind of went up and down feeling physically with my leg.
"I just found a way to win in such an exciting match, big battle, over three hours for three sets. If I lost one of these sets, we could have gone the distance. God knows how long.
"We already had some matches over five hours during this tournament. This looked to be another one. I m really fortunate to get through in straight sets."
MEDICAL TIMEOUT
A heavily-strapped but more aggressive Djokovic emerged from a medical timeout and built pressure with his relentless returns from the back, going up 4-2 as 27th seed Dimitrov hit the net to surrender his serve, and went on to wrap up the second set.
A half-fit Djokovic can still be a handful for most players but he looked a little more certain of his mobility in the third set and a double break to start put him on the front foot before he limped to his chair and had treatment again at 4-1.
Dimitrov sprayed the errors -- 50 in total -- but continued to ask questions and won the next two games as the groans from the 35-year-old Djokovic grew louder during every point.
But an incredible 31-shot rally set up match point and Djokovic finally subdued his opponent to book a clash with Australian Alex de Minaur.
"Well, it kind of always starts well in the last few matches, including this one, and then some movement happens and then it gets worse," the Serbian said about playing with his injury.
"Pills kick in, some hot cream and stuff. That works for a little bit, then it doesn t, then works again. It s really a rollercoaster, honestly.
Djokovic said that it was draining to deal with matches in a less than ideal physical state.
"But it is what it is. It s kind of a circumstances that you have to accept," he added. "I m just grateful that I m actually able to play. The way it looked just before the tournament started, I thought that it wouldn t be possible. "I m still here and still holding on."