PM expresses gratitude that Pakistan made football will be used in World Cup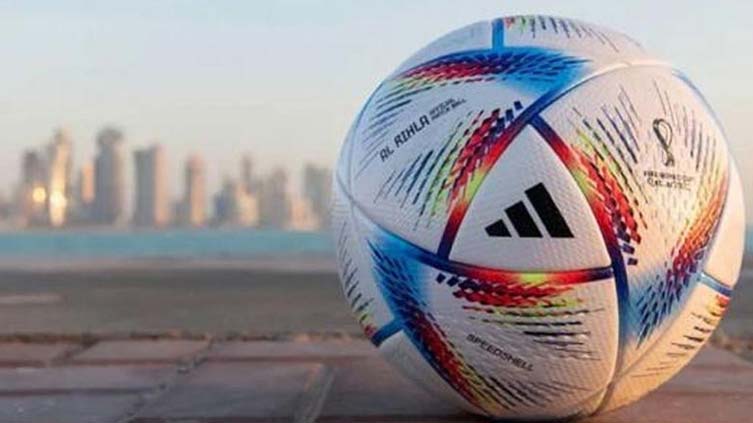 Sports
PM said the ball that was used in World Cup 2014 and then World Cup 2018 was also made in Pakistan.
ISLAMABAD (Dunya News) - Prime Minister Shehbaz Sharif has expressed gratitude that football which will be used in World Cup 2022, is made in Sialkot city of Pakistan.
In a tweet, he said the ball that was used in World Cup 2014 and then World Cup 2018 was also made in Pakistan.
The official match football for the upcoming FIFA World Cup has been produced in Pakistan, making it the country's significant contribution to the mega soccer event.
The ball named "Al-Rihla" has been unveiled by sports company, Adidas. Al-Rihal is an Arabic word that translates to 'the journey. The ball has been made in Pakistan by Adidas, the second largest sports manufacturer in the world. The official match ball incorporates the culture of Qatar boats, the flag, and the architecture of Qatar.
Sialkot Chamber of Commerce and Industry's senior vice-president Sheikh Zohaib Rafique Sethi has confirmed in a statement that Pakistan's ball "Al-Rihla" will be used in the 2022 edition of the FIFA World Cup.
He further said that famous company of Sialkot Forward Sports has made the football for the tournament.
Sheikh Zohaib said that this is the first time that football made in Sialkot will be used in the World Cup. While he added that this is the third time football of Forward Sports is being used in the World Cup.
-- Also Read This --
FIFA lifts Pakistan football suspension
FIFA, the governing body of world football, said on June 30 that it had lifted its suspension of the Pakistan Football Federation (PFF) imposed for "undue third-party interference."
Pakistan was suspended in April 2021 after a dispute over a normalisation committee imposed by FIFA to ensure its rules were being followed.
FIFA had refused to recognise the 2018 election of Ashfaq Hussain Shah as president of the PFF.
They suspended Pakistan after Hussain Shah briefly threw the normalisation committee out of PFF headquarters.
That suspension was lifted by the Bureau of the FIFA Council on June 29.
"The decision was taken after FIFA received confirmation that the normalisation committee of the PFF had regained full control of the PFF s premises and was in a position to manage its finances," FIFA said in a statement.
It warned that Pakistan could be suspended again as a result of "any undue interference in its affairs or action that could hinder the fulfilment of the mandate of the normalisation committee."
Thursday was the deadline for the committee to compete its tasks , which include fresh elections but FIFA said that because that was "now no longer realistic" its mandate was extended until "30 June 2023 at the latest."