Published On 18 July,2021 11:05 pm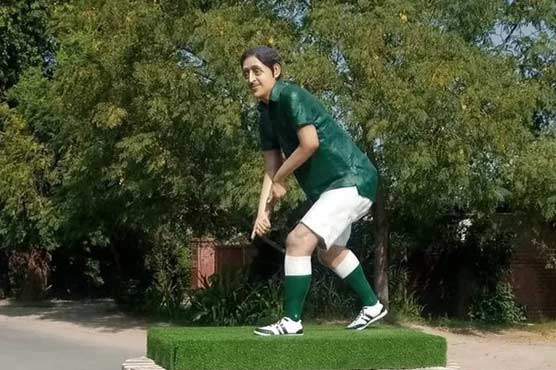 Thieves steal hockey, ball from statue of ex-Olympian Samiullah Khan
BAHAWALPUR (Dunya News) - Thieves stole a hockey stick and a ball from the statue of hockey Olympian Samiullah Khan in Bahawalpur.
It is pertinent to mention here that the statue of a legendary hockey player was installed in Khan's hometown for paying tribute to him.
While briefing to the journalists, the Bahawalpur police spokesperson informed that the statue of Olympian Samiullah Khan was installed earlier a month ago. He also said that the thieves stole the ball two days ago and vanished the hockey later.
The Bahawalpur Cantt Police Station has registered a case after the theft of hockey and ball from Olympian Samiullah Khan's statute. The police have registered a case on a petition filed by a Bahawalpur citizen.
DPO Bahawalpur stated that this is highly condemnable. "The statue was restored to its original condition after a case of theft was registered," DPO added. He assured that those involved in the incident would be arrested soon.
He also said that Samiullah Khan is a hero of Pakistan, his services are endless. "We will not allow anyone to insult those who make Pakistan famous. We will not tolerate the desecration of their monuments; we will protect all monuments of our national heroes," he reiterated.
It is noteworthy here that Khan played for Pakistan between 1973 and 1982. At the FIH World Cups, he was a member of two winning teams: 1978 and 1982. He also won silver in the 1975 World Cup. He appeared in just one Olympics in 1976 where Pakistan won bronze.
Samiullah Khan also won three Asian Games golds: 1974, 1978 & 1982 (when he was the captain), one Asia Cup gold: 1982 (captain).