Tunisian goalkeeper feign injuries to help teammates break fast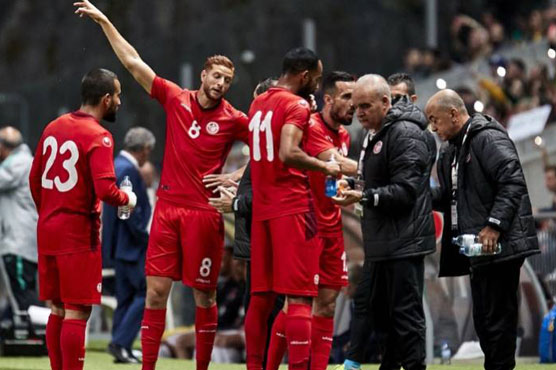 After drinking some water and eating a few dates, the North African nation bagged an equaliser
(Web Desk) – Tunisian footballers have devised a clever plan of breaking their Ramadan fasts during recent World Cup friendlies.
In two international friendlies played in the last week, Tunisian goalkeeper Mouez Hassen has gone down injured, just after half-time, with similar non-descript injuries allowing medical staff to rush on to the field, causing a break in play.
During their first match against Portugal and while 2-1 down, Hassen appeared to injure himself in the 58th minute, a move which allowed his teammates to run over to the sidelines and break their fast.
Fun fact:
Tunisian National team has played the last two friendlies while fasting. So, whenever the time comes to break Fast. The players have an agreement that the GK would go down so they can get a moment to drink some water and get something to eat#Ramadan #tunisia pic.twitter.com/4Rgz380ukW

— Souhail Khmira (@SKhmira) June 2, 2018
After drinking some water and eating a few dates, the North African nation bagged an equaliser six minutes later and went on to hold the European champions for the next 30 minutes to a 2-2 draw.
And in the 49th minute of a game against Turkey on Saturday, Hassen lay flat on his back while several Tunisian players ran over to the touchlines to grab some food - their first source of nourishment in hours.
The players and management had calculated that the time of sunset, known in Islam as Iftar, or the breaking of the fast, would fall in the early stages of the second half.