Last Updated On 20 June,2016 12:37 am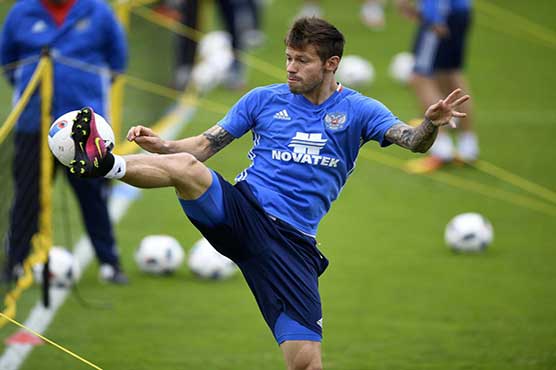 Three Russian fans were handed jail terms by French authorities last week for their role in attack
TOULOUSE, France, June 19, 2016 (AFP) - Russia striker Fedor Smolov has claimed Russian fans who attacked England supporters in Marseille last week were simply acting after being "provoked" by their English counterparts.
Three Russian fans were handed jail terms by the French authorities last week for their role in attacking England supporters.
Meanwhile, on Saturday a group of 20 Russian football fans, including far-right agitator Alexander Shprygin, were expelled from France for their role in organised attacks against England fans in Marseille.
"I d like the supporters to go on backing us. As for everything that goes on around us, there s a number of videos that have been uploaded on the web, and clearly the English really did provoke them," said Smolov.
Russia face Wales on Monday in a high risk Group B clash the Russians must win to have any chance of qualifying for the last 16 of the tournament.
However, their preparations have been overshadowed by violent clashes in the past week.
UEFA has said Russia will be kicked out of the competition if their fans cause more trouble inside a stadium during the tournament.
And Smolov urged violent supporters to go "fight elsewhere".
"Clearly, these events should not go on in football stands. If people want to go out with the intention of fighting, they should fight elsewhere," he added.
"They shouldn t do it in the stadium."
Controversy over Russian supporters has so far stopped short of causing a diplomatic incident, although Russian president Vladimir Putin appeared to poke fun at the thousands of England fans who ran away when attacked by a hardcore group of 200 Russians.
Speaking at an economic forum in Saint Petersburg in midweek, Putin called it a "disgrace".
To laughs and applause from the audience, he added: "But I truly don t understand how 200 of our fans could beat up several thousand English."
Russia will host the World Cup in two years time, but coach Leonid Slutsky played down any concerns over the reputation of fans ahead of the tournament.
"I don t think us getting into the last 16 is linked to the 2018 World Cup.
"I don t think football will become more or less popular (in Russia) based on our results here."
He believes the measures taken by the French authorities in recent days means there is a reduced chance of further violence leading up to Monday s game in Toulouse.
"Any disorder or violence, it s all in the past because a lot of measures were taken after the match in Marseille," he added.
Earlier, Wales coach Chris Coleman called on Welsh fans to "just do what you ve been doing, come and support us, enjoy the game.
"Any animosity, that remains on the pitch and that s where it stops."
When asked if he could send a similar message to Russian fans, Slutsky said: "Of course if that could help I would like our supporters to go on continuing to support us, albeit within the norms of the game and of civic society.
"We re trying to focus and not be disturbed by things we can t control."