Iranian President Rouhani arrives in Islamabad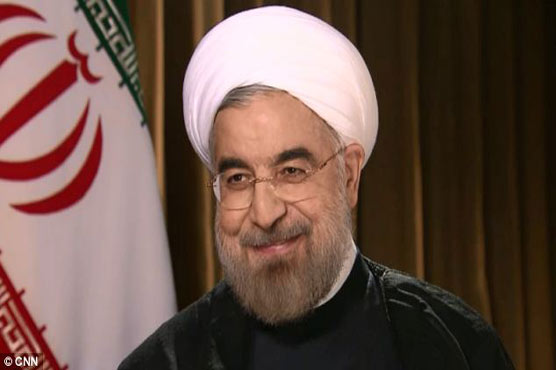 The visit is focused on enhancing economic ties after lifting of sanctions from Iran.
Dunya News Report (Madiha Fareed)
Iranian President Dr. Hassan Rouhani has arrived in Islamabad on his two-day visit. He was greeted by Pakistani Prime Minister Nawaz Shareef at the Nur Khan Airbase and was given a 21-gun salute. Dr. Rouhani is expected to hold meetings with Pakistani President Mamnoon Hussain, Prime Minister Nawaz Shareef, Chief of Army Staff (COAS) General Raheel Shareef, and other high officials of the country. The Leadership will have an exchange of views on strengthening bilateral relations, particularly after lifting of the sanctions on Iran that has opened new avenues for enhancing economic interaction.

This will be Rouhani's first visit to Pakistan as the President of Iran. He is visiting Pakistan on the invitation of Prime Minister Nawaz Sharif. The Iranian President will be accompanied by a high-level delegation comprising Ministers, senior officials and businessmen, Radio Pakistan reported.

Iran is seeking an active role in international community after being cast out for decades, Last year in July, Iran signed a nuclear deal with USA which opened way for Iran to actively engage with other countries and enhance cooperation in trade.

Foreign Office spokesperson Nafees Zakaria during his weekly press briefing filled media in on the details of Iranian President's visit to Pakistan; he said "This visit is taking place at a very important juncture of the time when sanctions on Iran have been lifted. During the sanctions period the economic relations between the two countries have suffered. There are agreements which are pending processing and finalization and progress was once very slow on them because of the reasons I have mentioned. I am not aware of how many and which agreements are going to be signed, but as I mentioned, the main agenda would be economic cooperation. Leadership on both sides is keen to add economic content to the bilateral relations. So, if there are agreements that have been finalized, those would be signed".

Ahead of the visit, President Rouhani released a message to Pakistani nation. It said, "I believe that, at this crucial moment of the history of relations between two countries, it is essential for Pakistan and Iran, on the basis of decades long experience of friendly relations, should lay the cornerstone of a new bilateral engagement based on the mutual interests of the two countries."

The message added, "Mutual collaboration of the two countries can also be beneficial on regional and global level. Pakistan and Iran having been at the east-West Corridor, can account for a better share in global economic and cultural development. Both countries have potential to expand economic exchanges and cooperation greater than the volume of which is now they share."

The basic agenda of the visit is enhancing economic cooperation in trade and the sectors of energy. Progress on Iran-Pakistan Gas pipeline is expected.

Iran Pakistan Gas pipeline project is a 2,775 km (1,724 mi) long under-construction pipeline that will deliver natural Gas from Iran to Pakistan. The deal was finalized in 2009 however the progress on the project has been stop-start from Pakistani side.

Iran announced in July 2011 that it has completed construction of its section and if Pakistan does not complete its side of the pipeline by the end of 2014, it will have to pay a daily penalty of $1 million to Iran until completion. The details on the penalty remain unknown as Pakistan has still not even started work on gas pipeline in its territory. Iran has reportedly invested over 2 billion dollars on the gas pipeline project.

In September 2012, it was announced that the project will be completed by December 2014. On 11 March 2013, President of Pakistan Asif Ali Zardari and the President of Islamic Republic of Iran Mahmoud Ahmadinejad inaugurated the construction works on the Pakistani section of the pipeline. The Managing director National Iranian Gas Company (NIGC) Javad Owji said that the pipeline in Pakistan will be constructed in 22 months with cooperation of Iran.

Pakistani officials have made contradictory statements about the progress on project. Pakistan got cold feet more than once on this project upon pressure from US and Saudi Arabia. United States have long pushed Pakistan on going against the pipeline, promoting Turkmenistan's Gas over Iranian natural gas even though the route required a 700 extra miles across fickle regions in Afghanistan. Whereas Saudi Arabia offered to deliver an alternative package to Pakistan if Pakistan abandon this pipeline deal with Iran. Though Pakistan has over and over again maintained that it will not abandon the project; at the same time Pakistan has not commenced any of the actual work.

In January, United States and European Union lifted the sanctions on Iran, releasing about $100 billion of country's frozen assets and allowing Iran to export an extra 600,000 barrels of oil every day. The lifting of economic sanctions from Iran brightened the chances that Pakistan will complete its side of the work on Iran Pakistan Gas Pipeline.

The July 2015 US-Iran Nuclear deal, Joint Comprehensive Plan of Action (JCPOA), opened way for Pakistan to proceed on the project, In September 2015, Pakistan's minister for Petroleum and natural Resources Shahid Khakan Abbasi told the Iranian News Agency (IRNA) that "sanctions on Iran were a major hurdle in commencing the work on project, but now the work will be started within six months and will be completed by December 2017".

Apart from economic partnership, Pakistan's cautious approach on the recent Saudi-Iran standoff has provided space for both Iran and Pakistan to rethink their strategic partnership. Pakistan has made it clear that it will not be a part of any alliance against Iran and refrained from taking sides in the diplomatic feud between Iran and KSA. However Iran has voiced concern over the Saudi-led 34-nation military coalition in which Pakistan is also participating. Iran's ambassador to Pakistan has called the alliance "ridiculous" as it only includes Sunni nations. Saudi Arabia expects Pakistan to play an active role in the alliance, however the security analysts in Pakistan generally are of the view that Pakistan should lobby for the inclusion of Shiite nations in the military alliance before presuming an active-role.