Last Updated On 29 March,2016 03:19 pm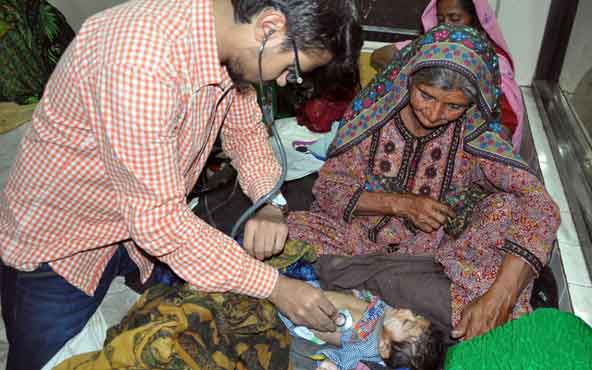 More than 200 children are under treatment in different hospitals
Dunya News Report (Jibran Dost)
MITHI: Three more children lost their lives on Sunday after an outbreak of water borne and food shortage diseases hit Tharparkar, raising the death toll to 165 since the beginning of January.At the same time, more than 200 children are under treatment in different hospitals and more than 50 children have died of malnutrition alone.
Earlier last month, the people of Thar, largely the Hindu community, participated in a special prayer to ask for divine help amid rising death toll of children since the government is not able to produce help and improve the situation of the Thari people.

Lack of government response, lack of health care facilities and scarcity of water are amongst the major reasons for the deaths in Thar.
Life is tough for people living in Tharparkar. Extreme heat in summer, scarcity of food, unsafe and saline drinking water and lack of access to basic health facilities have had an adverse effect on the life and wellbeing of communities.

The special prayer was arranged by Sindh Rural Partners Organisation (SRPO), a non-governmental organisation that works for the minority rights in the Thar region.
On the other hand, Sindh Chief Minister Syed Qaim Ali Shah has constituted a two-member Judicial Commission headed by Justice retired Ghulam Sawar Korai to explore the situation in Thar.
"I have improved health services, upgraded basic health units, dispensaries and taluka hospitals by providing equipment and have doubled the budget for medicines," Qaim Ali shah stated.

In addition, Chairman Pakistan People Party Bilawal Bhutto Zardari last month, formed a committee consisting of Information Adviser Maula Bux Chandio and Food Minister Nasir Shah to look into the situation of Thar.
Chairman Pakistan Tehreek-i-Insaaf Imran Khan while briefing the media expressed that the deaths of children in Tharparkar is a tragedy. Sindh government's slackness in matter of deaths of malnourished children in Thar is shameful and unforgivable.

In the period 2014-2015, many people have died due to the shortage of food. At the same time, relief packages announced by government were misappropriated because of the lack of planning.
In 2012, according to Minister Sharjeel Memon, the chief minister declared the district a disaster area. Due to the below average rainfall in Thar in recent years, the 22,000 kilometer spread desert has been a consequence of major number of human and livestock losses.

The current situation of the Thari people has resulted in increased crime rate, increased suicide rate and the abuse of women.
Moreover, migration of the people towards other areas is taking place. Normally 15 to 20 percent of the families would migrate, however 40 to 50 percent families migrated in the last two years.
Despite government plans, both the public sector and civil society failed to fulfil the promises for which the Thari people paid the price.