Death toll from Mastung suicide blast rises to 60; four still critical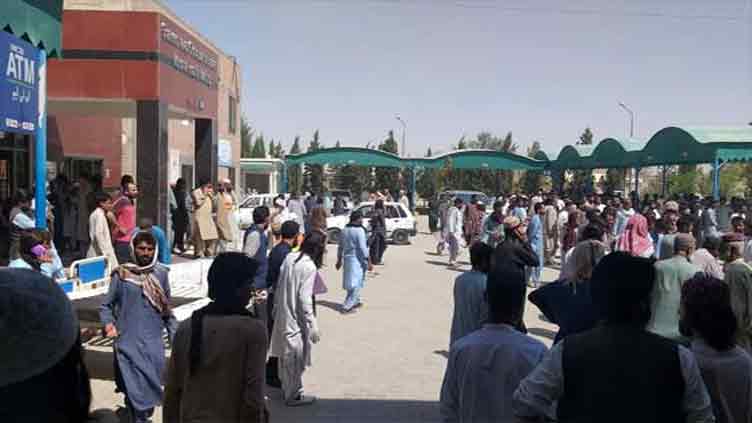 Pakistan
A terrorist blew himself up when some people were gathering to celebrate Eid Miladun Nabi (SAW)
QUETTA (Dunya News) - The death toll from the Mastung suicide blast rose to 60 on Sunday. Four victims are still said to to be in a critical condition.
Dunya News reported that 18 victims are still admitted to Combined Military Hospital (CMH) and three others are getting treatment at Civil Hospital.
The Quetta's Counter Terrorism Department (CTD) registered a first information report (FIR) of the case. A powerful suicide blast had rocked Balochistan's Mastung district on Friday.
The dead and the injured were initially shifted to the DHQ Hospital and other infirmaries. The incident took place at a bazaar near Madina Masjid on Al Falah Road. Rescue 1122 ambulances, police and Bomb Disposal Squad officials reached the crime scene.
A state of emergency has been declared in all hospitals. Security forces cordoned off the area soon after the incident.
DSP Nawaz Gashkori was among the dead. According to a spokesman of the Counter Terrorism Department (CTD) Balochistan, a suicide bomber blew himself in a gathering of people.
India's RAW orchestrated Mastung suicide bombing: Sarfraz Bugti

India's foreign intelligence agency, the Research and Analysis Wing (RAW), is behind the recent terrorist attacks in Balochistan, Federal Caretaker Interior Minister Sarfraz Ahmed Bugti alleged on Saturday, a day after a grisly suicide bombing targeting a 12th Rabiul Awwal procession in Mastung district claimed lives of 59 people.
Interacting with media here, Bugti accused Indian's RAW of orchestrating Friday's suicide bombing through its facilitators based in Balochistan province.
"All major incidents that occurred in Balochistan before this one…they were all unearthed –
India's RAW was behind all these, and the forces who want to destabilise Pakistan," said the minister.
Bugti did not provide any evidence to support his claims, but added that investigations were in progress and that violence, regardless of the group claiming responsibility, would be met with a befitting response from the state.
It is important to mention here that there was no immediate claim of responsibility for the Mastung attack by any group. Even the banned Tehreek-e-Taliban Pakistan (TTP), responsible for some of the deadliest attacks in Pakistan, denied its involvement in Friday's bombing.
The interior minister vowed to relentlessly pursue terrorists, signalling a departure from the policy of appeasement adopted in recent years. He said that the state was aware of terrorists' locations and safe havens and would take action against them.
Bugti also mentioned a previous attack on JUI-F leader Hafiz Hamdullah earlier in the month, stating that the mastermind behind that attack had been eliminated.
The minister expressed frustration with past instances wherein the state adopted an appeasement policy when dealing with terrorist elements. He made it clear that from now on the state would not hesitate to hunt down any terrorist group, be it Daesh or TTP or anyone else.
In response to a question about the suspension of district commissioners and superintendents of police, Bugti said that Balochistan Information Minister Jan Achakzai could answer it in detail, but emphasised that a thorough investigation would be conducted.
Bugti highlighted that Friday's terrorist attack targeting a procession on the auspicious occasion of 12th Rabiul Awwal in Balochistan was unprecedented, recalling that previous attacks had targeted the Hazara community and Muharram processions.
Regarding the abduction of footballers from Dera Bugti district earlier in the month, Bugti confirmed that four of them had been rescued and the remaining two would also be safely recovered.
The Balochistan caretaker government yesterday announced to observe three days of mourning in the entire province in view of the tragic incident that has so far seen 59 deaths.
Meanwhile, the Balochistan Counter Terrorism Department (CTD) has registered a first information report (FIR) of the Mastung attack, and are investigating.
In another incident of terrorism, two suicide attackers targeted a police station's mosque in Hangu, Khyber Pakhtunkhwa, killing five people and wounding 12 others.