Listen to The Pouring Rain: Lahore says goodbye to hot, humid weather with downpour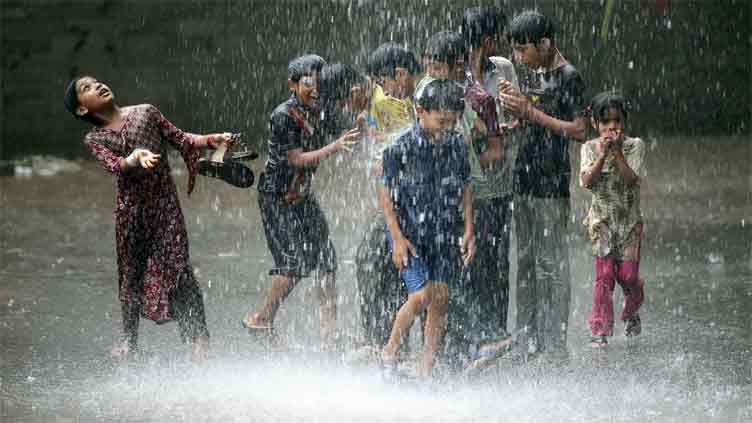 Pakistan
Downpour with thunder and wind started around 3am
LAHORE (Web Desk) – Heavy downpour with thunder and wind lashed the provincial capital on Tuesday as monsoon season is about to end with weather showing signs of change after current spell of rains helped end the sweltering heat which was made unbearable by extremely high level of humidity.
The rain comes as the Met office has predicted widespread rain/thundershower with wind in Sindh and eastern Punjab while at few places in northern and eastern Balochistan, upper Khyber Pakhtunkhwa and Kashmir during the next 24 hours.
Parts of Lahore started receiving rain around 3am, which later spread to other areas. However, the heaviest rain was recorded in the eastern parts including Tajpura, Mughalpura and DHA.
The maximum amount of rain recorded so far was 157mm at airport followed by 148mm in Tajpura where rainwater entered houses. Meanwhile, Gulberg, Johar Town and Nishtar Town too have received over 100mm of rain as the low-lying areas in the city are inundated.
By the time this report was filed around 10:20am, dark clouds were still covering the skies as rain with varying intensity continued across Lahore and surrounding areas.
The latest spell of rains is a product of the monsoon currents from Bay of Bengal and a westerly which converged over the upper and central parts of the country while also affecting the eastern parts of Sindh.
Read more: Sizzling heat with high humidity even on Sept 14 but rains are at last predicted
Hence, the permanent change in weather after the monsoon season was imminent for two reasons: firstly, it is mid-September and, secondly, the westerly brought cooler winds.
Meanwhile, the chief amounts of rain [other than Lahore] recorded during the past 24 hours [till 8am] are given as:
Punjab – Toba Tek Singh 26 and Narowal 17
Sindh – Nagarparkar 80, Mithi 49 and Thatta 47
Khyber Pakhtunkhwa – Malam Jabba 22 and Cherat 17
WHAT'S IN THE STORE?
The Met Office in its latest advisory says a low pressure area (LPA) is located over Southeast of Rajasthan (India) and likely to move south westwards during next 48 hours, which will bring rain/ thundershowers with wind in lower Sindh and eastern parts of Balochistan from Monday to Wednesday.
During the said period, Thatta, Badin, Sujawal, Umerkot, Tharparkar and Mirpurkhas in Sindh may receive isolated heavy rainfalls.
However, the spell will affect Kashmir, Gilgit-Baltistan, Islamabad, northern and eastern Punjab as well as upper Khyber Pakhtunkhwa Monday to Thursday.

It's a developing story. Details to follow