FM urges UNAOC to play role in halting Islamophobia, bigotry, discrimination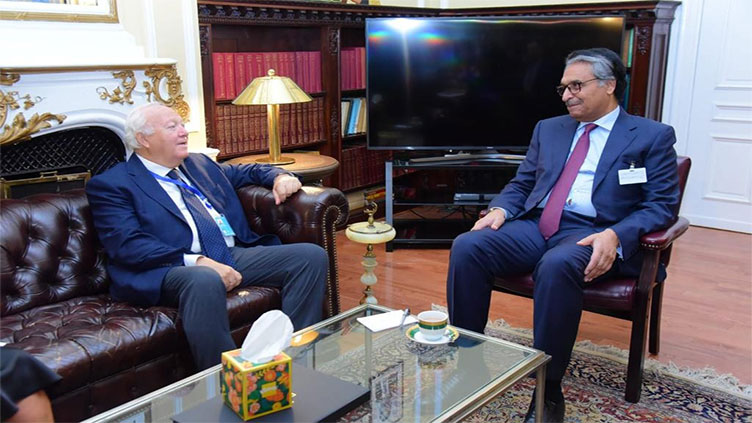 Pakistan
FM Jilani underscored that religious intolerance and Islamophobia were escalating globally.
UNITED NATIONS (Dunya News) - Caretaker Foreign Minister Jalil Abbas Jilani urged the United Nations Alliance of Civilizations (UNAOC) to intensify its initiatives to halt and reverse the tide of Islamophobia, bigotry, and discrimination grounded in religion and belief.
Talking to the High Representative for the UNAOC Miguel Moratinos who called on him on the margins of the 78th UNGA Session in New York, the foreign minister underscored that religious intolerance and Islamophobia were escalating globally, but the most vehement expression was evident in India.
During the meeting, the two leaders discussed in detail the UNAOC's mandate, work and potential areas of collaboration, in particular combating Islamophobia and intolerance that "stems from religious beliefs and interfaith dialogue to foster harmony among cultures and societies".
The foreign minister also expressed his appreciation for the valuable work undertaken by the Alliance and the High Representative. In this context, he underscored the importance of unbiased and comprehensive reporting.
While encouraging interfaith and intercultural dialogue and exchange of ideas at the local, national and international levels, the High Representative reiterated the UNAOC's readiness to promote continued dialogue and foster mutual respect and understanding, including on ways to combat Islamophobia.
Created in 2005, one of the core objectives of UNAOC has been to advance mutual respect for all cultures, traditions and religious beliefs. It serves as a platform for bridging differences and alleviating inter-religious and inter-civilization discord.
The foreign minister is part of Pakistan's delegation headed by Caretaker Prime Minister Anwaarul Haq Kakar attending the 78th Session of the United Nations General Assembly.