PM Kakar arrives in New York to lead Pakistan's delegation at UNGA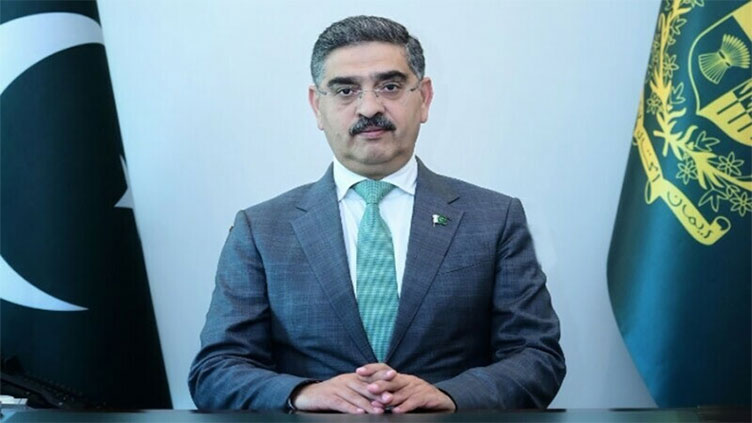 Pakistan
Prime Minister will also hold bilateral meetings with counterparts from various countries.
UNITED NATIONS (Dunya News) - Caretaker Prime Minister Anwaarul Haq Kakar reached New York on Monday afternoon to lead Pakistan's delegation at the 78th session of the United Nations General Assembly (UNGA), which opens today (Tuesday), with nearly 150 world leaders set to attend the annual event.
He was received at John F. Kennedy International Airport by Pakistan's Ambassador to the UN, Munir Akram, Pakistan's Ambassador to the United States, Masood Khan, Deputy Permanent Representative to the UN, Ambassador Aamir Khan, Consul General in New York, Aamer Ahmed Atozai, and other officials.
The prime minister is set to address the General Assembly on Sept 22, the first Pakistani caretaker premier to do so.
Massive security measures are in place in and around the UN complex for the Assembly's high-level debate from Sept 19 to 26.
In his address, PM Kakar is expected to project Pakistan's perspective on a range of regional and general issues of concern, including the Jammu and Kashmir dispute. He will also elaborate on the significant measures taken by his caretaker administration to consolidate the country's economic recovery and efforts to mobilize domestic and external investment.
In addition, the prime minister will hold bilateral meetings with counterparts from various countries as well as with the heads of international organizations, philanthropic organizations and corporate leaders. He also has a number of media engagements.
PM Kakar will apparently be the first interim prime minister to represent Pakistan at the UN General Assembly.
At a news briefing in New York last week, Ambassador Munir Akram said that PM Kakar will also participate in a sustainable development goals (SDG) summit during his visit to the UN headquarters.
The United Nations will convene the SDG summit in New York on Sept 18-19, on the sidelines of the Assembly session.
"The prime minister will be speaking about the mobilization of financing for SDGs," Ambassador Ak­ram said.
The prime minister will also make a keynote at another summit on financing for development where "he will talk about how to mobilize private sector finance for development," the Pakistani envoy added.