Khwaja Asif lashes out at Afghanistan for not reciprocating friendly gestures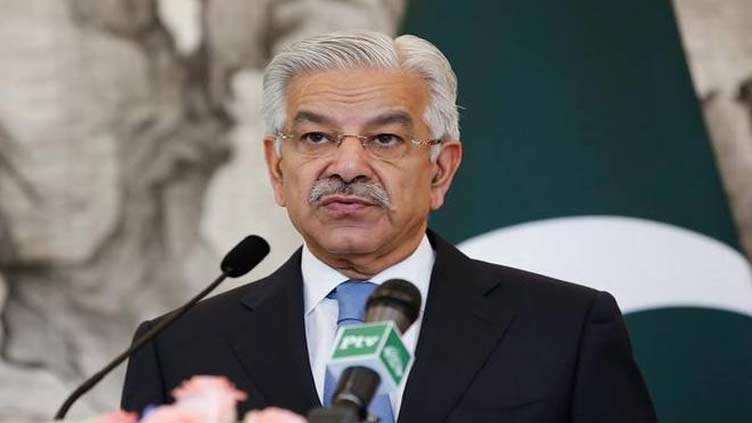 Pakistan
Earlier, COAS had showed serious concerns regarding the safe havens of TTP in Afghanistan
ISLAMABAD (Web Desk) - Defence Minister Khawaja Muhammad Asif lashes out at Afghanistan for giving its soil to terrorists' outfits.
In his strong-worded tweet on Saturday, the defence minister said Afghanistan was neglecting its duties as a neighbouring and brotherly country while also disregarding the Doha agreement.
Asif said four to five million Afghan refugees had been living here in Pakistan with all their rights intact for the last 40 to 50 years. "On the other hand, the terrorists who shed the blood of Pakistanis find safe heavens in Afghanistan," he said.
افغانستان ھمسایہ اور برادر ملک ھونے کا حق نہیں ادا کر رہا اور نہ ھی دوہہ معاہدے کی پاسداری کر رہا ھے. 50/60 لاکھ افغانوں کو تمامتر حقوق کیساتھ پاکستان میں 40/50 سال پناہ میسر ھے. اسکے بر عکس پاکستانیوں کا خون بہانے والے دھشت گردوں کو افغان سر زمین پہ پناہ گائیں میسر ھیں. یہ صورت…

— Khawaja M. Asif (@KhawajaMAsif) July 15, 2023
He said the situation could no longer persist. Pakistan would utilise its all the resources to protect its territory and people, concluded Asif.
It merits mention here that Doha peace agreement prevents Afghanistan to give its territory for terrorist activities.
The minister's statement came just a day after Chief of Army Staff (COAS) Gen Asim Munir showed his serious concerns regarding the safe havens and freedom of movement enjoyed by the banned Tehreek-i-Taliban Pakistan (TTP) within Afghanistan.
As many as nine soldiers were martyred in an attack on a military installation in Balochistan's Zhob Cantonment this past week.
Pakistan has witnessed an increase in terrorist activities in Khyber Pakhtunkhwa and Balochistan after the termination of the ceasefire between the government and the banned TTP in November last year.
Earlier, the Foreign Office also urged the Afghan authorities to ensure that their land isn't used against Pakistan.