JI's Hafiz Naeemur Rehman submits nomination papers for Karachi mayor slot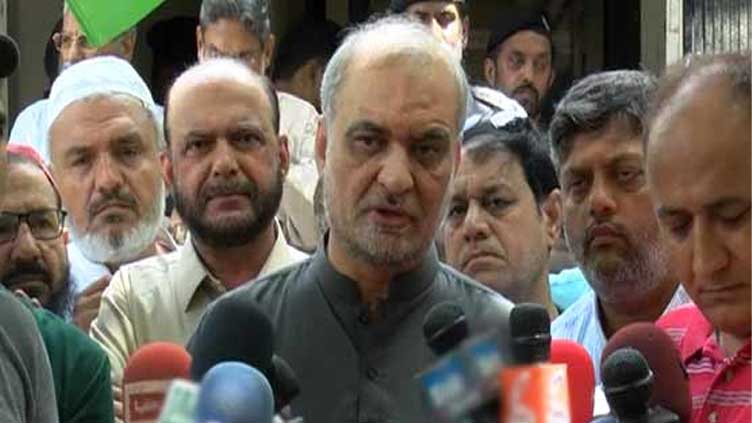 Pakistan
Returning officer summons JI leader on Sunday at 11 am for scrutiny of his papers
KARACHI (Dunya News) - Amir Jamaat-e-Islami Karachi Hafiz Naeemur Rehman submitted his nomination papers for Karachi mayor slot in the regional election commission office here on Saturday.
Saturday (today) is the last day to submit nomination papers for the election of mayor and deputy mayor of Karachi. In this regard, Mr Rahman submitted three separate nomination papers. Meanwhile, the returning officer has summoned the JI leader on Sunday at 11 am in connection with scrutiny of his papers.
Speaking to media on this occasion, Mr Rehman said that his party was going to stage protest demonstrations across Pakistan. "Tomorrow (Sunday) there will be a protest on Shahrah-e-Qaideen in Karachi," he said.
Mr Rehman said that PPP, as a fascist party, was bullying others. He said his party would show the real face of People's Party to the world. The JI leader said that law had been amended before the election of the mayor. "We have filed a case against the amendment. We believe the court will reject this amendment," he said.
Mr Rahman said that Sindh government was trying to rig election. "Whatever they do, they will not be successful. The Election Commission has a chance to restore its reputation and credibility. At present, the People's Party is occupying the provincial capital," he added.
Ameer Jamaat-e-Islami Karachi said the PPP was holding the Election Commission hostage. He said in 1977, the People's Party had tried to turn the minority into a majority. In 1971, they broke the country but did not recognize the people's mandate, he was of the view.