Zardari, Shujaat discuss political situation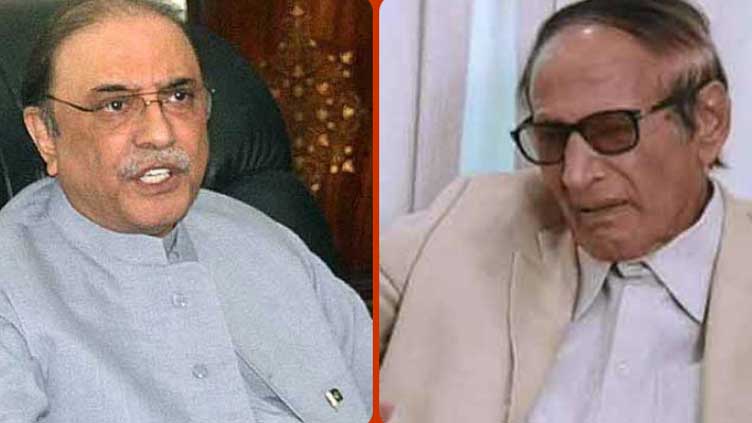 Pakistan
Asif Zardari inquires after Chaudhry Shujaat's health
LAHORE (Dunya News) – Former president Asif Ali Zardari and Pakistan Muslim League-Quaid (PML-Q) supremo Chaudhry Shujaat Hussain discussed the country's political situation on Friday.
Mr Zardari called on Mr Hussain, during which both the leaders underscored the matters in line with the country.
The former president inquired about Mr Hussain's health. During the meeting, Chaudhry Salik Hussain, Chaudhry Shafay Hussain, Chaudhry Sarwar, and PML-Q Sindh President Tariq Hasan were also present.
On Wednesday, the PML-Q proposed to convene an All Parties Conference (APC).
The sources divulged the PML-Q intends to negotiate with the political leadership of the country to get the country out of the political crisis.
On Monday, Jamaat-e-Islami (JI) naib emir Liaquat Baloch held a meeting with PML-Q supremo Chaudhry Shujaat Hussain. During the meeting, Mr Hussain acknowledged the severity of the events that unfolded on May 9, emphasised that condemnation alone is insufficient. He called for unity among all politicians, emphasizing the need for collective action in order to address the challenges faced by the country.
Mr Baloch, highlighting the dire circumstances of inflation and unemployment, stressed that the situation has made it increasingly difficult for the people to sustain their livelihoods.
He expressed his belief that dialogue is the key to resolving these issues, stating that all problems can be effectively tackled through open discussions.
Furthermore, he underscored the importance of holding elections on time, stating that political stability can only be achieved if the electoral process is conducted as scheduled.